Last weekend we were at the Jacksonville Home Show because my husband had a booth for his garage system (
Monkey Bars
.) The first night that I drove down to help set up, I got to this one section of road right next to the river when all of a sudden my entire car smelled like coffee!
I am not familiar with downtown Jacksonville. In fact, I'm really not very familiar with most of Jacksonville - I know a few neighborhoods and a few roads. I had never been this route before, it was dark out and it never occurred to me that Jacksonville, FL had a Maxwell House factory.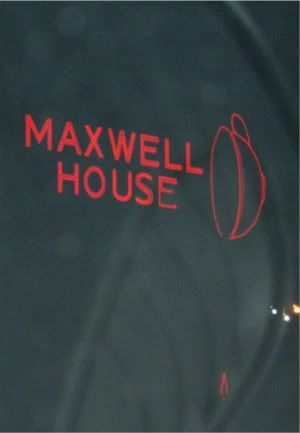 The next day I saw the sign and was so excited! You could see it miles away because it was at the very end of a very long street. When I got close, I grabbed my camera and tried to hold it steady and shoot. I only got one shot because I realized that my lane was ending and I had to merge.
The next night, when I was going home I saw the red neon from the Maxwell House sign. Once again, I grabbed the camera and really hoped that I could get a shot. That darned merge lane just isn't very long so I had to be quick. It wasn't until I got back and uploaded my photo that I noticed the neon "drip" at the bottom of the picture! I didn't get the whole thing in the picture, but it's pretty close.
Some day I'll have to go downtown, park the car and walk around and take pictures - it will be much easier than driving, holding out my arm, hoping to get a shot!
I think it is so fun to discover things in my town that I never knew existed.
I hope you have had a wonderful weekend.
Kristin