I am participating once again in Leigh's Thrifty Thursday at
Tales from Bloggeritaville
. This is where people are welcome to share their thrifty finds and talk about how they use it.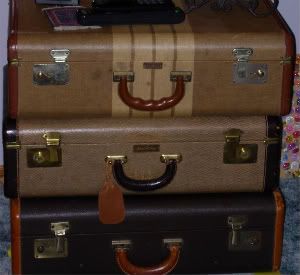 My husband and I used to go to a lot of auctions when we lived in Michigan. i had an antique booth at the Allen Antique Mall in Allen, Mi - which is such a great place. I found so many cool things there before, during and after I had my booth. The suitcases however, came from an auction. I purchased two of them for $10.
I was so excited.
I'm sure I squealed.
Every other time I tried to buy an old suitcase the price got too high. But this auction, no one seemed to care about them.
Towards the end of the sale the auctioneer found another suitcase. The crowd had really thinned and the enthusiasm was getting real low. He picked up the suitcase and said - "Number so&so (my number) I'm sure this was the mate to the ones you purchased earlier."
I squealed again! and I was the proud owner of THREE old suitcases for the bargain price of $10.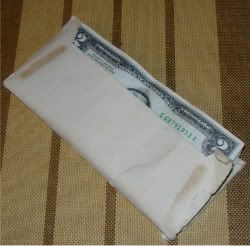 Now, I have to admit, we purchased a lot of things at that auction and I didn't get to the suitcases for a few days or possibly even a few weeks. But when I did, I went through each one. There were some papers, bobby pins, a couple of dust cloths, too I think. Nothing of interest or value.
I know you see that envelope of money off to the side. Well, the third suitcase I opened had a large buckled flap inside the top lid. I peeked in the flap, without unbuckling it and didn't see anything. Then I tipped the suitcase to see if anything was hiding and this envelope came into view.
To say that my heart nearly stopped is probably not too far off. I had no idea if the money was real and it was just a joke for whomever opened it - or if it was indeed real. I had no idea if it was $10,000 or $10. I was just so thrilled to be so completely surprised.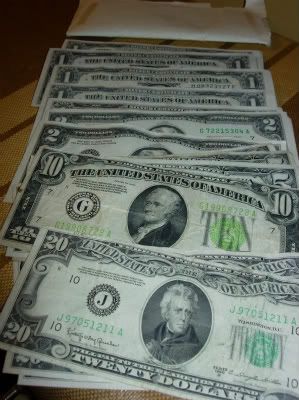 When I spread out the cash, this is what I saw. There were $41 in one dollar bills. All of them were Silver Certificates. Then there were a couple of two dollar bills some fives, tens and a couple of twenties. All in all, that envelope contained $105.
Not a single bill is newer than the 1950's. I believe this is what happened...
The couple went on a trip. The husband cleaned out his suitcase - but didn't unstrap the top flap of the suitcase because he didn't remember putting anything there. Then that suitcase got put up on a top shelf and never used again. The other two suitcases were clearly the woman's suitcase just from the items found inside. Her suitcases were used again, but his wasn't. For 45 years, no one ever used that suitcase.
I still have all the cash. Some of the one dollar bills are in sequence. They are fresh from the treasury, never creased - absolute mint condition. I tried to find out how much these bills were worth, but from what I found, none of them were worth selling. I've thought about framing a few of the ones, but I actually really like having them in that old worn envelope.
In our previous home, the suitcases were the storage units for all of my photos and they also served as the bedside table in the guest room. Now these suitcases hang out in our storage room, still holding the photos. Sometime soon I'll find a spot for them, now that I'm thinking about them again.
That's my thrifty post. It's real thrifty - a gain of $95!
Have you ever found something valuable inside anything?