The other day I cleaned out my fridge. I didn't necessarily throw anything away, but I filled up a sink of hot soapy water and took out each shelf and each bin and washed them, dried them and washed the fridge walls, too. I even washed all of the jars and bottles. The fridge just looked so sparkly shiny that I had to take a picture!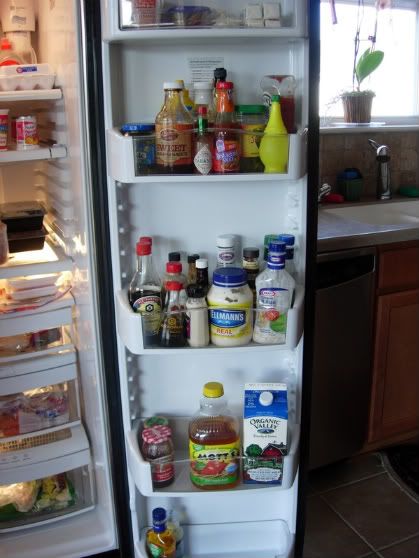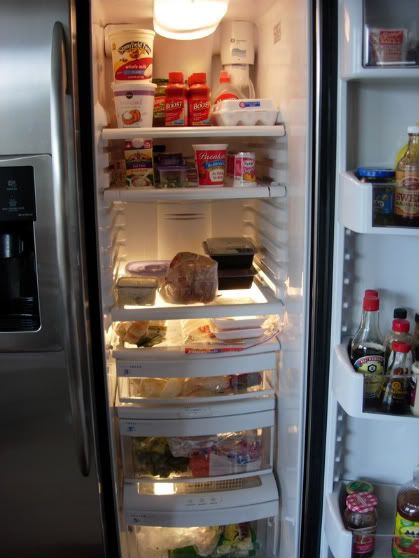 I should have tossed the pancake syrup - it's on the top shelf behind the eggs, but I just know if I toss it, my husband will want to make pancakes for himself this weekend. So far that syrup hasn't been used in about a year? maybe 6 months. anyway, it's been a long time. How long does sugar water last anyway? This stuff probably lasts forever LOL
In the door we have two containers of soy sauce and then we have a little pouring bottle like you see in the restaurants. Ever since I was diagnosed with diabetes, we haven't used the soy sauce. The LaChoy soy sauce is a brand that doesn't use wheat. When I was trying to avoid all wheat products was when we acquired the second bottle. I should ask my neighbors if they would like a bottle. It is so difficult to throw stuff away, even if we don't use it.
Well, that's my nice clean fridge. No science experiments were found in there. I had a boyfriend once that cleaned out the fridge nearly every day. It was just one of his things. That habit sort of wore off on me. Every so often some lettuce or green onions get away from me and they go bad before I can use them, but pretty much I get everything out of the fridge before it becomes something scary.
Have a great day!
Kristin