If you have a fragile stomach I would suggest that you avert your eyes.
Seriously.
It's an ugly sight.
It nearly made me sick when it happened.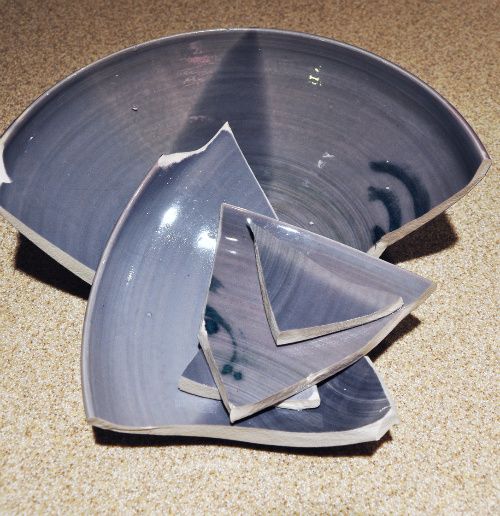 This was my salad bowl.
This is the bowl that I would prepare my "I'm having a large salad for dinner."
It has been around for a dozen years or more and used at least twice a week but probably more like five times a week.
This lovely purple bowl used to hold our veggies for dinner or was the bowl to make chicken salad.
It slipped out of my hands when I was rinsing it off and crashed into the sink.
We are now out of large salad bowls.
I broke the other one last fall.
I got a new bowl for Tom at the Riverside Arts Market a few weeks later.
OK, technically we aren't out of large salad bowls, because I clearly just stated that I replaced Tom's bowl that I broke. However, that bowl is giant and it's too big for my salads. I need a smaller, more functional one. So in that respect, I'm out of large salad bowls.
Now I'm going to have to replace this one.
The thing is, I don't want a new bowl!
but I'll just have to make an effort to find a replacement. :)
Shopping for pottery is fun afterall.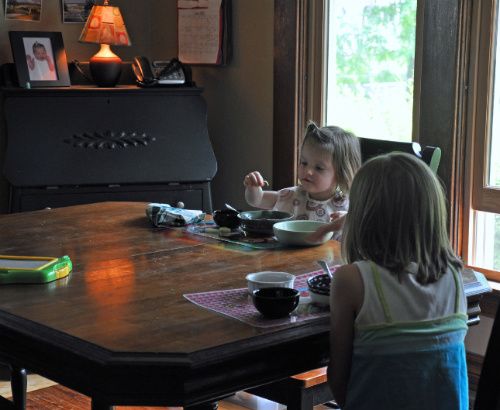 I'm not the only one in my family that loves her pottery bowls. My sisters and my mom have quite a large collection of them as well.
My sister is bringing her girls up right, as you can see from this photo. (I took this when I was there)
Each kid has three pottery bowls in front of her with their lunch. :)
Here's Stella with her bowl of green beans, bowl of pasta, an empty bowl that had fruit in it and a few cucumbers on the placemat that didn't get a bowl.
All you have to do it teach them young that eating out of pottery bowls is great and they'll respect the dishes.
Alison says that they've lost a few bowls and she's bummed but it's worth it. I know I've dropped enough glassware in my days.
Pottery is no different.
I'll be sure and blog about my new salad bowl when I get it!
I hope you enjoy your day!
Kristin