I wrote this post a few months ago, when I had received my first letter and some mighty wonderful gifts from my snail mail partner. So when you read below that Dysfunctional Mom is on vacation, that was in June.
It's been a real fun project. Thanks DM for putting this together :)
I'm so happy I signed up to participate!
Kristin
8 September 2010
A few weeks back I signed myself up to be a part of DysFUNctional Mom's Snail Mail Project. She has asked that each participant send out one thing each month. She sees this as an ongoing project, so if you'd like to sign up, please click on the this link -
The Snail Mail Project
or you can click on the button.
Of course I finally decided to blog about this the week that DysFUNctional Mom decides to take a week off from blogging, but I'm sure she'll match up snail mail participants if you do sign up for it.
I was given one of the international bloggers, Maureen, she's from Indonesia. I haven't wanted to read her blog because I really want to keep this as a snail mail type of relationship. I also have answered back via email but with very limited chit chat. It's been a long time since I've written out a nice long letter to someone. I really need to write a few long letters to some overseas friends now that I think about it.
Well, we aren't talking about what I need to do, I'm trying to talk about what I received!
Here is a portion of the letter that I received.
I think I now have a new handwriting sample that I'd love to copy.
I actually thought that this letter was written via computer somehow. It doesn't even look like ink on that paper.
It is just such beautiful writing. I love the "w" and the "s" - those are my favorites in her handwriting.
Sometimes I do believe that I'm obsessed with handwriting.
Did I ever mention that I learned how to legibly print because I copied the handwriting of my manager at Burger King when I was about 14 years old?
Maybe not obsessed.
Close.
I don't know if I could ever come close to writing like Maureen, but I will be thrilled to pieces to see it in the mail each month!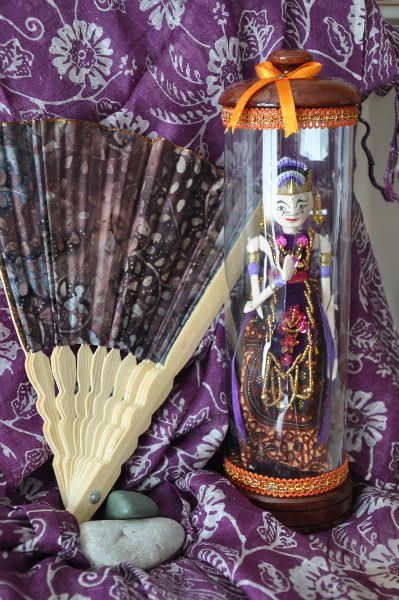 I've been having trouble getting my photos to download for the past several days, so this post is actually about 5 days later than I intended, but I wanted to show off the lovely items that Maureen sent to me. I told her that my favorite color was purple, so she sent me some beautiful batik items.
The purple scarf in the background is from her - I thought it made a gorgeous backdrop for the other items. She sent the fan and the doll. She mentioned in her letter about the doll being a part of the story of Rama and Shinta. It looks like I've got some investigating to do.
My sister's friend collects rocks. I brought her a rock back from Rome and when Maureen asked if there was anything I'd like, I suggested maybe a rock. She's so gracious that she sent two! I can't wait to give the rocks to Hillary's friend.
Thanks Maureen!
It's going to be a pleasure having you as a snail mail partner.
I did want to link to Maureen's blog, even if I don't read it right away, because I bet she's very interesting. Her place is called
Tatter Scoops
.
I sent my letter off, as it turned out, the exact same day that I received her package.
Have a wonderful week!
Kristin