My very very favorite part of any cruise is the dinner. It isn't because of the food, it's because of the people. There are a couple of commercials out there on TV where they show these people marching off to dinner at a certain time and marching out at a certain time. It says "they tell you when to eat" but on their cruise you don't have the unique opportunity to meet some incredibly interesting (and I've found) completely wonderful people. I would ABSOLUTELY hate to freestyle my way through all of my dinners. It's hard to strike up a meaningful conversation with people if you know you are only going to chat with them through the one meal. If you know you've got to see them all week, well then it becomes more important to get to know these folks. I've always had the late seating dining which is usually around 8:15pm. This pretty much takes care of all of the families with children, they tend to eat at the early time. This means that we've almost always had a table for ten that's filled with couples or friends traveling together.
This time was no exception.
I truly wish these pictures were better. The lights in the dining room wreaked havoc with my lens. These photos are only a close approximation of how lovely everyone was :)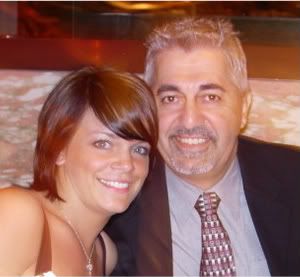 This is Stephanie and her Father, George. (or is it Georg?) I never asked how to spell everyone names, so I'm guessing a bit. These two are hair stylists and if I ever get to their neck of the woods, I'm getting an appointment.
This is Cosmo and Ivilesse. There is absolutely no question in my mind that we are going to see these two again. Cosmo lives just a few miles from us and Ivilesse is the other side of us, just a few more miles. Cosmo really doesn't look this way - it's the weird camera lighting. He is quite handsome and she is a doll. Tom and Cosmo hit it off right away and chatted like they'd known each other for years.
This is Christy and Ann. They said that they had to approve all photos of them - but I'm going to have to post this until I get a better one. They had to be represented because I enjoyed their company so much. I predict I will see them again as well. Heck, I bet we'll all meet up again - this was one special group!
Here is Roy, our waiter. He's from Jamaica. He was so patient with us. We were a fun group, but picky food eaters! Roy just said "OK, I'll see what I can do" and the next thing you know, the food that we wanted arrived. Christy & Roy made great dance partners, too. Our whole waitstaff team was great.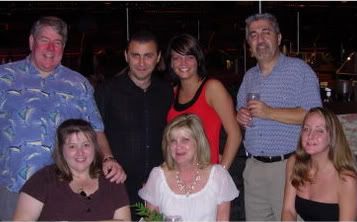 Ivilesse ran out to go change her clothes and it was then we decided to get a group picture! I don't know why we didn't wait. So here is all of us, minus one.
Thanks everyone for being such great tablemates.
Oh, I forgot to mention. We had another couple.
They arrived after the third night. I'm not sure why they didn't make it to dinner, but she said that it was all his fault LOL The 8 of us who were there the previous two nights were talking like best friends. It was really difficult to get these new folks involved in the group conversations but we did try our best. Jeannette and Joe - They were a lovely couple. I totally blaked on her name but Stephanie commented that it was Jeannette. (Thanks Stephanie!) Once again - what a wonky photo. Please excuse.
The last night, they didn't show up again, but we did see them as we were leaving and it was so nice to visit with them a little. They would have been a great addition to our table, I could see that.
Another peek into my wonderful Christmas Cruise. Hope you are enjoying it.
Merry Merry,
Kristin