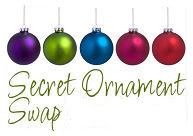 I participated in
Abbilyeverafter's
Ornament Swap. My name and address was given to one of the participants and I also received a name and address. All of the
Secret Ornament Swap Participants
are bloggers. This is a chance to meet new bloggers and for others to meet me! All in all, it's a lot of fun.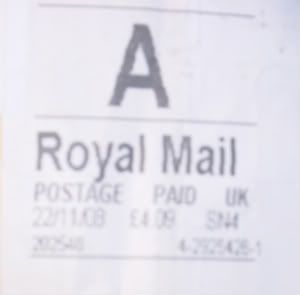 While I was vacationing in sunny, I mean snowy, Michigan I got a phone call from my husband that a package from England arrived. Ooooh, I was so excited! England! How fun!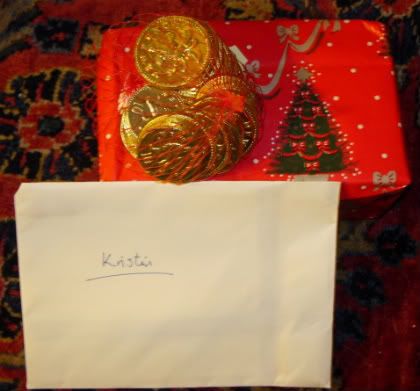 When I got home last night, I sorted through my mail and saved this package for last. I gathered my camera and made sure to take pictures. Here are the contents of the package. A lovely card that was handmade by my Swap Santa, a wrapped gift and a bag of chocolate coins. She said in her card that Christmas just isn't Christmas without some chocolate coins. We managed to save some for today, but I have to say, the chocolates were taste tested immediately.
YUM!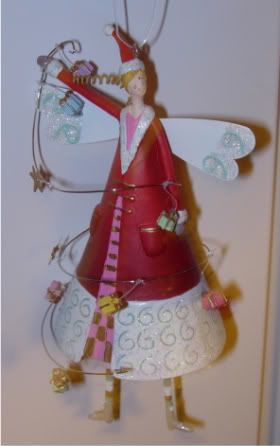 When I unwrapped the gift, this is what I found. A delightful and lovely little girl dressed up as Santa. Her little metal legs swing like the clanger in a a bell. She has metal wings and little metal curls for hair. Swirling around her are stars and gifts.
She has the sweetest little smile and rosey cheeks.
I love it.
I truly love it.
Please go visit my new friend - Sam. She is the blogger behind
The Life and Times of Me
. I had stopped by her blog before I got her gift and really enjoyed her site. I will be returning, that's for sure.
Sam, thanks so much for such a lovely gift, a beautiful card and those fun (and tasty) chocolate coins. I was so looking forward to opening your gift and I wasn't disappointed. You were the best Swap Santa! Have a wonderful holiday.