I've been reading
Dr. Cason's blog
for about 5 months now. She posted a comment on the
Pioneer Woman's
site one day and said that she never commented because she was just sure she would just get lost in the masses (or something like that.) She happened to comment on the same page that I ended up commenting on -- it was probably comment number 2000 or something - PW gets a bagillion comments. So, it was just luck that I read her comment. Anyway, of course I was intrigued and clicked on her site. Oh, I loved it. She takes the most beautiful pictures, she is a doctor in a clinic on the island of Guam, she is a wife and a mother and and and. I really enjoy her blog.
On Friday, Dr. Cason posted a challenge - it was a photo challenge.
Home for the Holidays.
Just post a photo and link it up with her site. I posted this photo last week, I think, but I love it! It is one of the best photos I've taken. So I may not participate in each of her Friday Photo Challenges (mostly because if I get a great photo, it's a fluke!) but I did want to post this one.
Click on the photo to see the larger version.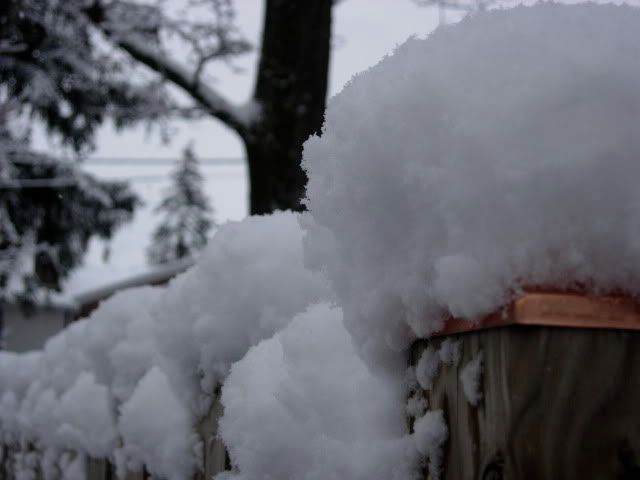 This was taken in East Lansing, MI on Monday December 1st, 2008. It is the fence in my mothers back yard. It is straight out of the camera. If the name of the Challenge was Home for the Holidays, then this is just the right photo. I went home to Michigan for the Thanksgiving holiday and soon after, it began to snow.
Have a wonderful day!
Kristin