This month is all about giving and I'll tell ya, I've been doing real well on the giving part. I've also been on the receiving end of that giving time of year, too.
I joined in three Santa Swaps and as of yesterday at 6pm, all of my Secret Santas have come through.
Georgie over at
Decisionally Challenged
started this whole Secret Santa Soiree (SSS) thing. She had an elf helper by the name of
Amy Amy Bo Bamey
who helped keep us all on track. I was totally sucked right into it. I think there were 70+ people in the swap - that's a lot of new blogs! If you get a chance, go check out some of the
SSS bloggers
.
So we were all given a little form to fill out - I filled out my form with as much information I could possibly think of, so that my Secret Santa would have no trouble at all getting to know me. Also so that they wouldn't send scented candles, lotions, potions and the like. I'm terribly allergic to that kind of stuff. I also made sure that every so often I'd actually talk about my likes and dislikes in my blog, so if my Secret Santa was reading - they'd be able to figure out that liked a wide variety of things.
My gift arrived around 6pm Eastern time. The UPS man rang the doorbell and I went running for the door! It had arrived, I just knew it. It had to be here.
It was!! It was here!!!
This was what I saw when I opened the box. It's festive! and I see a kitty cat peering out --- with my name on something --- and my name is spelled correctly! (that's a real bonus!)
Once I unloaded the box, this is what I found. My Secret Santa went all out!
Rochere chocolates, something in red tissue, a wrapped box, a DVD, a note pad, some weird Texas thing, travel tissues, the cat that I saw earlier, a box with snowmen on it and note cards.
Goodness!!
Now to open everything.
Oh! this weird Texas thing is a post card. I am betting my Secret Santa lives in Texas! (I'm just messing with you, Texas!!!!) The lined note pad has my initial at the top and a magnet on the back. The note cards are also monogrammed with my initial. Very cool!!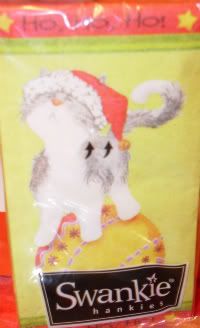 This is the little package of travel tissues. It's got a kitten on it. A kitten with a Santa hat, standing on a Christmas ornament. Awwwww. I love these little travel tissues.
This is just the most adorable thing! What a clever idea! The note says "Remove Me!" So what's behind the note????
It's a picture of my kitty cat Mocha!! Do you see the little frame part? It's a paw! The little boings at the top are the little kitty pads. This is just too cute for words. My Secret Santa must have gotten the picture of my Mocha from this blog. She's a sneaky Santa!
Let's see -- We've got some Chocolates, that the note enclosed said that this was my Secret Santa's favorite chocolates and I'd have to say, I can tell! Look, there's one missing!!! I bet that was my Secret Santa. Another note was on top of this DVD of Footloose! She said that when she thinks of the 80's she thinks of this movie - I couldn't agree more. I love this movie and I do NOT own it. Perfect!!!
Aw heck, I ate the chocolate. It wasn't my Secret Santa. :o)
This little kitty held one of my favorite things - Clickable Sharpies!! Oh thank you Secret Santa, Thank You!!! I think I'll keep the Sharpies in the Kitty holder - it's just puuuurrrrfect!
The next thing I opened was this Snowman box. Now this is where I was starting to get reaaaaallly suspicious. I was getting the feeling that I knew who my Secret Santa was...Texas, Snowmen, my love of Sharpies... There was just one person...It just HAD to be...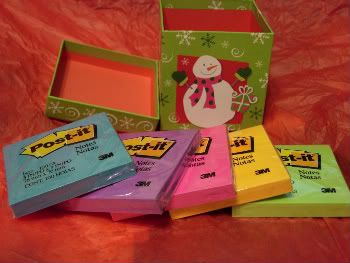 Post-Its! Now I was SURE I knew who it was. My love of post-its is legendary (as is my love of writing with Sharpies on Post-its!) This had to be someone who reads my blog regularly. I'm thinking she tried real hard not to write out exclamation marks when she wrote her notes to me! That would have been a dead give-away.
This last gift was the clincher. It was Jeannie or J as she is known in the comments section. She is a snowman addict! She knows about my Michigan roots, my love of snow pictures (just not having to personally be in the snow!) so this was all the handiwork of Jeannie. I was positive now.
Not to mention, this was just over the top when it comes to Secret Santa swapping!! She really went all out and it was a blast to open it all.
She had been emailing me the past few weeks talking about picking up just one more thing for her swap person and I recall telling her to just send it out already! LOL I was also thinking that I couldn't wait to see who got her gift because she was having a ball buying for her. I was totally clueless that it was me.
After I'd already decided that
Jeannie
was my Secret Santa, I went to the box and found the town where the box was mailed and it was right near where I thought she lived. I figured it out!
What a great swap!!!
Please go check out
Musings from Left Field
- J's blog. Say Hi to her. Tell her she is awesome! Aw heck, I'll tell her...
Jeannie - You are Awesome!! Thanks so much.
Kristin