Megan over at
Three Time Mommy
was my Swap partner in the
Secret Ornament Swap
. She was the very lucky recipient of the ornaments that I chose.
She finally got all of her packages.
Whew.
That was a process. (only because I ended up making it a process!)
I sent the first one out and totally forgot to send a note or card or something! Just the gift, in a Christmas Penguin bubble wrap envelope I got at the post office in Michigan. The rest of the ornaments that I had already purchased were in Florida. I was just going to mail it all together when I got back home, but saw that the deadline to send was Dec. 1st.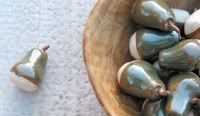 So, I sent what I had, which was one small Pear ornament.
The Pear
came from MudPuppy (you can find them on Etsy.) It is just the cutest thing! I was behind in my ordering, so I had this item shipped directly to my Mom's house, so it would be there by the time I arrived. I gave pears to my sisters and my mother, too. I'd love to have a whole bowl of these! But I won't lol I'll just stick to one that I put on the tree.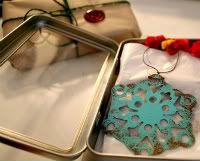 The Snowflake is out of stock now, but came from
NestaUsa
also an Etsy store. Do you recall a post I did awhile back about some really great packaging?
Click Here.
It was from this Etsy shop. You can see the pacckage in the background of the picture, but I didn't notice it before. I guess I wasn't paying attention!
and the acorn came from
Pottery Barn
. I don't see it on their website at all - so maybe it sold out as well. Guess I got some pretty popular gifts if they are all sold out. (I originally wrote Souled -- that was funny! )
Thanks so much to Julie at
Abbilyeverafter
she did such a wonderful job getting this activity together. I had a great partner in Sam, from England. The ornament she sent me was written
here
and her blog is located
here
. I had a lot of fun with
Megan's
gift, too.
All in all, it was a lot of fun and I found a lot more blogs that have caught my interest.
Have a fabulous day!
Kristin