I went to this lovely little shop in the Neptune Beach area of Jacksonville, FL. It was right across the alley-way from The First Street Gallery, but sheesh, I can't think of the name of the shop. Well anyway, I saw this little story about the keys for Santa. Click the picture for a larger view, if needed.
I thought that was such a sweet little story. I hadn't heard it before. Have you? The owner of this shop made it a mini theme in her store.
Next to the story was this scale with a pile of skeleton keys. Around the store were keys with a long red ribbon tied to them hanging on doorknobs and cabinet doors. They looked beautiful and interesting.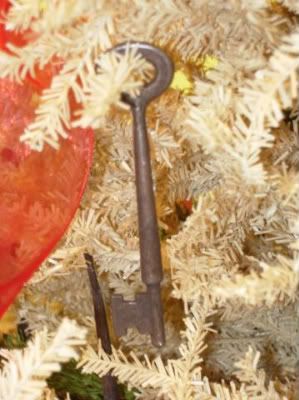 Then I saw a key in a tree. Isn't that an unusual color combination? I loved it. I was so focused on the key in the tree that I didn't notice...
That besides the red bow on top (which I totally cut out of the picture!) the only thing on the tree were keys.
I loved this tree. The simplicity, the beauty and the texture. Loved it!
Have you seen any decorations that have just knocked your socks off?
I love the creativity that I see in the stores. Some of the displays are truly breathtaking.
Have a wonderful weekend!
Kristin