It's snowing again.
I've got my plane tickets in hand and I'm almost ready to fly home.
It's been such a fun week.
I've been to Indianapolis and had Thanksgiving there, then traveled with my Mother and sister back to Lansing, MI. I've been to a play, had a mini Christmas, had several wonderful restaurant meals, scanned photos, laughed and laughed and laughed.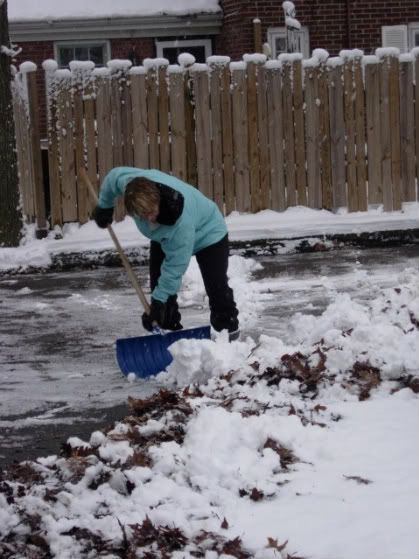 Mom, Alison, Hillary and I laughed so hard last night at dinner that people at the surrounding tables started looking at us.
The man sitting at the table next to us last night, during our laughing phase, was a man named Donnie. He was the drummer for Verve Pipe when they had the hit "The Freshman" in the late 90's. He knew my sisters husband, Jim Alfredson, and he also is friends with a couple of people that were my neighbors at one time. Small world.
These action shots of my mother shoveling snow are from Monday. She had the whole front and back of the house shoveled before I even got out of bed. This is all that was left when I got up.
You all have a great day! I'm going to be back in sunny Florida by the end of the day.
Kristin