Madame Pickwick

Sherbrooke, QC

On Saturday of last week (titled
Very Interesting
) I talked about the Art-O-Mat and posted a video on how one of the artists put together her art for the machines. If you haven't seen it, you still have time to run over there and watch the video. The Art-O-Mats are former cigarette machines that now dispense packs of art. The list of artists that participate in this program is extensive. (
see the list here
)
So stick with me here.
One of my
Wreck This Journal
friends,
Kavindra
wrote on my
Confessions
post. She gave me a wonderful pep talk about taking my fabulous self to my reunion in a great looking outfit. Then she mentioned that she had also read the
Very Interesting
post and watched the Art-O-Mat video, then visited the website, then jumped in her car as soon as she realized there was an Art-O-Mat near her! She also mentioned that if I wanted one, she would gladly pull the lever again and mail off a special gift to me.
I wrote her back and said that I wasn't too proud to say YES to her offer. I wanted something from an Art-O-Mat and I wasn't afraid to beg. Actually I was just so excited that she had one near her and that she got something that it was a shock to my system to read that she wanted to send me something!!!
From her description of the events it sounded like she took off like Batman to the nearest Art-O-Mat. She then emailed back and said that she was actually Batman and Robin because her husband got in on the act with her!
The story just got better and better. Superheros, art, giving and blogging.
Well - The envelope arrived today and I jumped up and down, up and down when I pulled the package out of the mailbox. Here's what Kavindra picked out for me.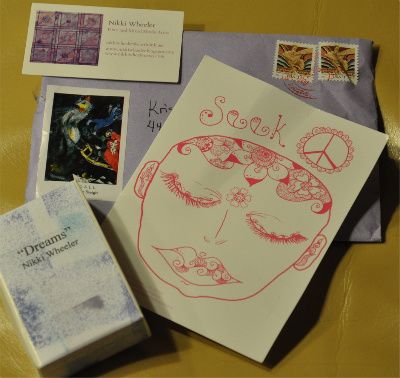 She sent the Seek Peace card along with the pack of art from the machine. She even put a lovely sticker on the front of the purple envelope, which is a Chagall painting (The Flying Sleigh.) Purple is my favorite color :) and she posted the envelope with real stamps, so I can add those two $1 stamps in my Wreck This Journal stamp page! All this excitement and I still hadn't opened up the box or read the card.
The box was titled "Dreams" created by
Nikki Wheeler
and according to the note included in the pack...
...the "Dreams" series began during the creation of some fabric beads. The little scrolls tied up spoke tom me. Inside they hold so many dreams. These dreams are easily effected by one's experiences and circumstances. Each little work speaks to different situations one may be encountering, with the hope of one's dreams for the future.

Nikki Wheeler goes on to say...I am honored that you now own a little creation of mine. I would love to hear from you.

This is just such a cool piece of art! I love the three scrolls. I don't know if it reminds me of dreams because right now with my sister having a baby next month and this will be her third child - I'm seeing my nieces and the new baby in this piece. Maybe I'll think of them having sweet dreams! This was a great pick. Perfectly wonderful.
Then! Then I turn over the Seek Peace card to read what
Kavindra
wrote to me.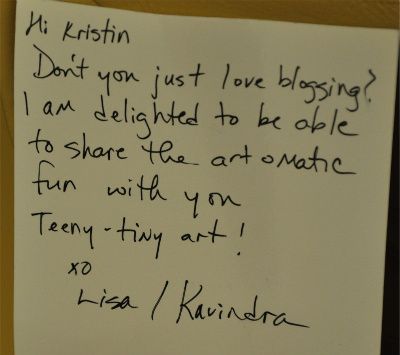 I really think that blogging is the best thing that has ever happened to me when it comes to friendship and giving. So many of the bloggers that I have met are so incredibly giving. I have to admit that I hadn't gotten over to
Lisa's (Kavindra)
blog for a few weeks, but while we were in Wreck This Journal I was there each week. I really enjoyed her blog, her creativeness and her whole attitude. So to have her read something of mine, go out and buy something because of something I suggested, then to buy something for me, write a note, go to the post office, stand in line and mail off this package to me is just so lovely.
Delighted? You're delighted? Oh I'm totally delighted, too. Thank you Lisa! Thank you so very much. This made my week. Thank you.
Kristin - The Goat