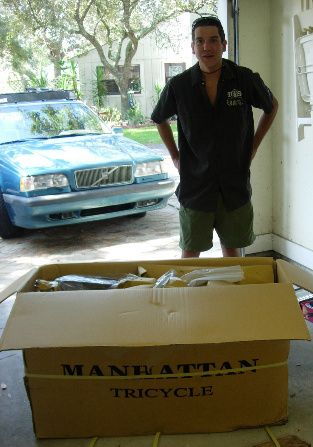 The large box you see is one that has been in my garage here in Jacksonville for the past several years. It holds an adult tryke. We thought that the tryke really needed to have a home where it would be used and when my mom called and asked if I could bring it with me, I was more than happy to ablige.
The guy you see standing in front of the rather large box is Kevin. He's the guy that my mom called to put together the tryke. We both knew that if the bike didn't get put together right away, it would end up never getting put together. Kevin arrived on Friday morning and one hour later he was finished.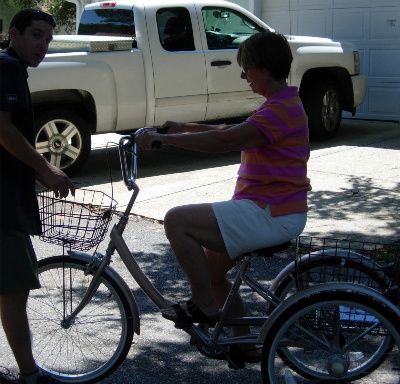 I think I caught Kevin by surprise :) He's checking the handlebars and seat to my mom's comfort.
Here she is! All finished and ready to roll. My mom took her out for a spin the next morning. There is a wonderful paved bike trail all the way to the grocery store in one direction (2.5 miles) and in the other direction I'm not sure how far it goes, but I'm pretty sure it's another few miles. The two baskets on this tryke will make it real easy to haul the groceries home.
I think this is going to be the perfect place to have this type of bicycle.
Have a great day!
Kristin