Welcome my late edition of
Thrifty Thursday
hosted by Leigh of
Tales from Bloggeritaville
. This gives us all a chance to have a fun time hunting around the house, the garage, someone elses house and garage or even a thrift store or two to dig up some cool finds.
Be sure and check out the other Thrifty Finds, from the other participants. I'm always amazed at what folks submit and how often I wish I'd found it, or bought it or noticed it...whatever IT is :)
I went shopping this week and actually bought something! I went to Target (we have a Super Target) because they have a very large selection of turkey products. As I finished with the grocery side, I went over to the other side.
That's the expensive side for me at times. Especially when I know I need a few things and I knew I need a new purse. My current bag is really looking beat up. I've had it a year and it's traveled a million miles. I still think that I want to take it with me to Rome because it can hold SO much and I can carry it easily. So I need something to replace it for everyday. I spent nearly 30 minutes in the purse and bag section and the payoff was fabulous!
These photos don't do the bags justice - the red bag is a gorgeous leather bag. I don't know why it looks like it has white rings on it. It's all red and I really like it. The weird purple bag is a thin fabric bag that has a giant long strap. I wanted it to hold my camera and a some money - It's just a get-out-of-the-car-with-the-camera type of bag. Not my everyday-haul-everything bag.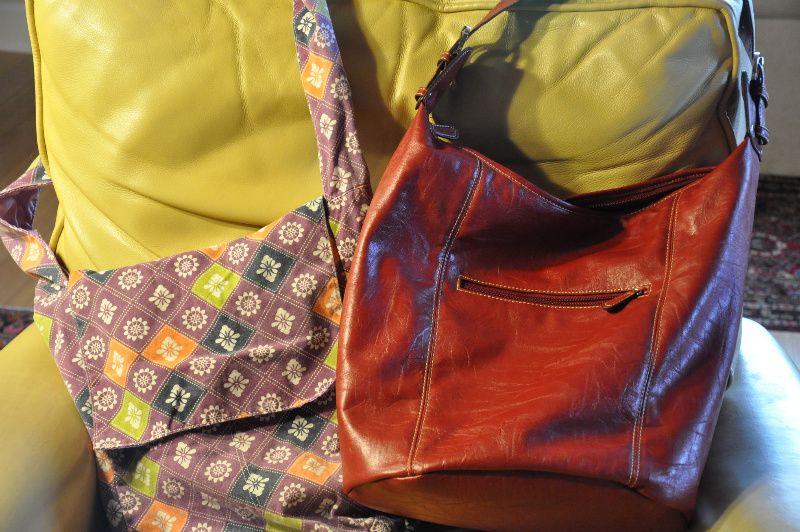 Thrifty?
Oh goodness!! They were both on clearance!
The weird purple bag - I know, it's not a beauty, so no kidding it was on clearance, but it was $3. Three Dollars!
The red leather bag - $12.
I'm super pleased. What I'm even happier about is that I knew if I didn't find the right bag for me, I didn't need to get one today. I went through all of the bags available and the ones on clearance were the perfect ones. Yipppeee :)
If you get a chance, please go visit the others at
Leigh's Thrifty Thursday
. Have a great day!
Kristin