Egg Salad is something that I really wasn't very fond of when I was growing up. Even when I got into my 20's I tried to make it a few times and ate it only because I'd just made it, but still, not a favorite. The past few years I've made egg salad about once every two months. I've really started liking it. I wonder if it's just because I have a love of mayonnaise :)
The other night my husband asked me if dill pickle relish went into egg salad. I told him that I didn't think so. I didn't make it that way, that's for sure, but I decided to Google "egg salad" just to see if it was a common ingredient. Turns out it wasn't listed at all on the recipes that I found on the first page.
Pretty much egg salad is made the same way, I learned from looking through those dozen recipes. The way I make egg salad really isn't all that different, but it's always good to share. So here's my official egg salad recipe.
I first start off with freshly hardboiled eggs. If you'd like my procedure for
hard boiling eggs
, then please click
here
. I don't mind peeling HB eggs anymore because of this method. It's just a breeze. I've also gone through several egg slicers the past few years, so I finally broke down and bought a fairly expensive one (just under $10 I think) and this one has now lasted a full 6 months - a record in my household! I think it's going to make it a full year at the minimum, which is just fabulous.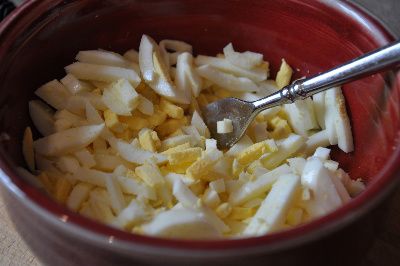 I slice the egg one way in the slicer, then I turn the egg and slice it again, so it's in small strips. Then I toss it with a fork because it's fun.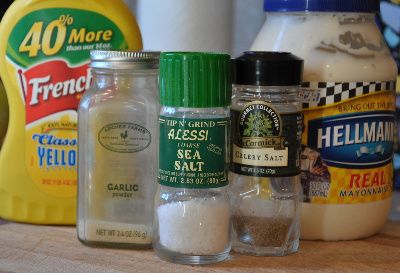 Then I add in this cast of characters. Mayo (Hellmann's Real Mayonnaise), a squirt of yellow mustard, some garlic powder, celery salt and regular sea salt. I add in onion powder sometimes, too. I add in the sea salt because my husband is usually eating it with me, but for just me, I tend not to salt anything. Eggs are naturally salty, so you can get away with it fairly easy.
I believe that the mustard is an absolute necessity. It gives the egg salad a lovely yellow color and keeps the salad from being too bland. Most people would look at these ingredients and would wonder where in the world is the freshly cracked black pepper? Well, I really and I stress
really
dislike pepper. If I feel a dish needs pepper but I can't stand to see the little black flecks (I will pick them out) then I fool myself and put in white pepper, but in the case of egg salad...pepper is not necessary. My husband disagrees, so he has a pepper grinder at his disposal.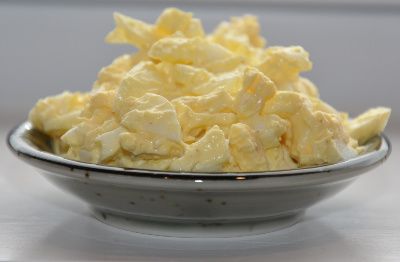 Here's my favorite little tiny dish filled with my egg salad. I usually eat this with several large lettuce leaves. I sort of scoop up the salad with my lettuce and eat it that way. I should probably wear a bib when doing this.

It may be the first day of fall, but it's always a good time to have egg salad.

Hard boiled eggs

Mayo

Yellow Mustard

Sea Salt

Garlic Powder

Celery Salt

Mix and serve.

Yum

If you make egg salad what do you put in it?

Have a wonderful day!

Kristin

*The red bowl is one of my favorite pottery bowls. I got it in Chicago when I traveled there with my husband. We went to a two story warehouse type of place where a lot of artists showed their work. It was a gallery and a studio and a work space. Very cool place. I just asked Tom and we have decided that we think it was just north of Chicago in the Lincoln Park area. I can pretty must describe exactly where I found all of my pottery pieces and who I was with when I purchased it. I say it's one of my favorite bowls, that's sort of the truth. All of my bowls are my favorite bowls!