This guy greeted my mom and I at the door of
Mikee's Seafood
in Gulf Shores, AL. I'm really not a huge nautical themed gal, but I do like these statues and it's all because of my grandparents. (The grandparents that lived in GS, as a matter of fact) They had a fisherman/captain statue in their house that I used to get my picture taken with when I was growing up. I wanted SO much to be taller than that guy. And one day I was and we didn't take any more photos with me next to him. I'll have to dig around and see if I can find one of those photos.
I like taking pictures of words. Or maybe it's the letters that I like to so much. Well, whatever it is, the Oyster Bar words here are on the side of Mikee's Seafood Restaurant. My Mom and I went to lunch here one day and we had a tough time finding something to eat. It wasn't for the lack of items on the menu, I think it was that there was too much or that several kinds of seafood were offered in each dish and I like just one kind at a time. I ended up getting crab claws. Turns out they came battered and fried! I had no idea. My mom and I also both got the corn fritters, no not fritters, nuggets? dumplings? I can't find the right word but OMGoodness they were so good. Yum!
Mikeee's was one of the success stories in Gulf Shores. They were flooded out a few times, but were able to rebuild and get back to business. I couldn't seem to get a good photo of the photo -- but it's the thought that counts! Isn't this just an incredible photo? I think those are two palm trees off to the right hand side.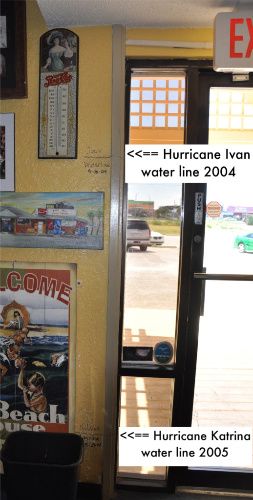 Right here at the front door are the water mark lines for Katrina and Ivan. Can you imagine how deep that water was for Ivan? It seems nearly impossible to comprehend.
This golf course across the street from Mikee's was the funniest thing. I don't think I've ever seen such a small mini golf course. I think you can enlarge the photo by clicking on it. It's seriously funny. I wondered a few times while I was in GS if anyone actually went to this mini golf. Would it be for the price? It HAD to be cheap. It just had to be.
One of the famous landmarks of GS has got to be the shark at Souvenir City. It's been around since 1956! It's a very cool shark.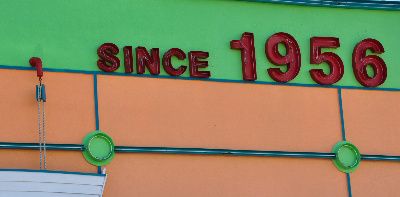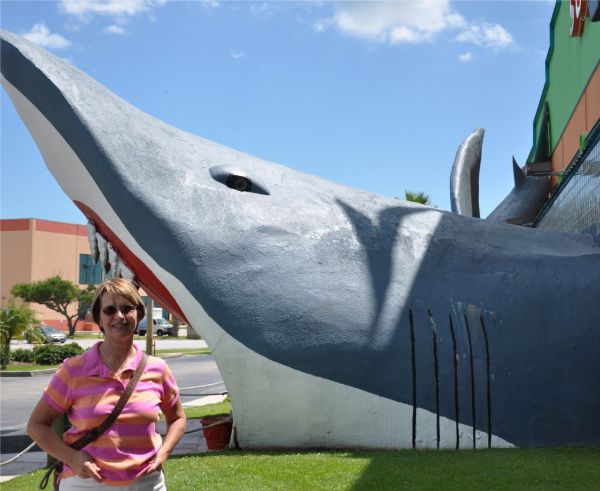 Here's the shark eating my mom :) She didn't scream or anything! Thankfully we were able to get in and out without a shark bite. My mom bought a few shells for the condo and I took pictures of shells for myself. It worked out well.
Mom is still in Gulf Shores - Hi Mom! I hope she's found a few more fabulous places to eat and that she's gotten the binder created for the take-out menus to our favorite places. I talked her into buying a label maker when I was there. I can't wait to find out how many cupboards she labeled.
If you're ever in Gulf Shores be sure to wave! Someone will wave back :)
Kristin