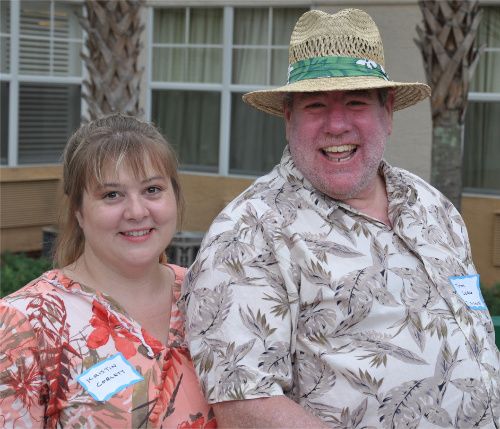 Tom and I went to a Labor Day BBQ with our support group friends. There were a few people in attendance that I hadn't met before, so that's always a nice surprise. We had the event at the Extended Stay Hotel right by my house. This hotel houses a lot of transplant patients, so they are always willing to have us use their facilities for gatherings without charging us anything. We always put a couple of signs up inviting all of the people staying in the hotel to come down and join us. They weren't very full this weekend but a heart transplant patient and her caregiver came down to join us.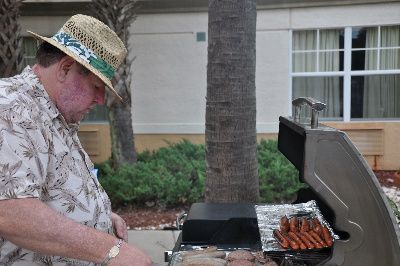 Tom was designated as the official hotdog and hamburger griller. For some reason the group thinks that Tom is best suited for this job. Thankfully he has indeed done a stellar job. The grill was wrapped within an inch of it's life in aluminum foil. Then he was given some aluminum grill sheet things...I have no idea what they were...but he was supposed to grill the burgers on those. So he did. Post transplant patients are very cautious and since this was a community grill, they wanted the grilling surface to be as clean as possible. The couple that puts together all of our events, they came out this morning to actually clean the grill so it would be ready for this evening. Oh goodness. They are fabulous. :)
I was the official photographer this evening and I got a photo of every one of our guests. I just spent the last hour emailing everyone their photos. We're going to update our directory and put photos of everyone in it, so that we can remember the faces with the names. We got a nice start on that project by taking pictures tonight. The picture at the top of the page, is the one that Tom and I are going to use. I had someone take this of us, with my camera.
I hope you have a lovely labor day weekend. I know I did.
Kristin