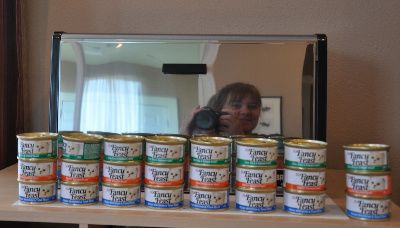 I'm getting things ready for my husband while I'm away.

Have I mentioned that I'm leaving town?

My husband will not be eating the Fancy Feast, but dear sweet Mocha will and she would be very upset if she didn't get the exact food she loves and adores. I though I'd save them both the trouble and I bought another box just in case Tom ran out.

The shiny object behind the Fancy Feast is a
Brisker
. Have you ever heard of a Brisker? I love ours. My mother-in-law has one and when Tom and I moved to Florida I asked her for one. I was subtle about it, I promise. She said "Do you have a Christmas Wish List?" and I said "I want a Brisker" and she said "Great!" Then I promptly forgot that I told her, so when it arrived I was thrilled to find just what I had been wishing I'd had. Cool, huh?
OK, a brisker is an electric appliance that is a lot like a heated bread box. It keeps the humidity out of foods that you want to stay crisp - like crackers, croutons, even salt. The
Brisker website
says that you can put cookies in the brisker, but unless you like really crunchy cookies then I'd just stick to crackers and such. The crackers are warm when you take them out of the brisker, which makes them 100 times better! It was the warm crackers that my mother-in-law always serves that made me really want a brisker and it was the humidity in Florida that made having a brisker a necessity. (a luxury, I know)
Oh, that's me peeking over the cat food, smirking at my reflection :) Oh wait, speaking of Mocha...

I took the duvet cover off the bedspread to wash it and it wasn't 30 seconds before Mocha had gotten herself all cuddled up in the middle of the bedspread. She's holding it down saying --- don't move it! It's all mine! haha

The update in last night's blog post on the gal who got the call - well, the liver wasn't good, so she didn't get transplanted. It's OK. We only want the best liver for her body.

Have a wonderful week!
Kristin