Just Start
Blogging for a Newbie
I'm a big fan of blogging. I think it is a fabulous way to put my thoughts down on paper (virtually of course) along with photos, to document the world the way I see it and to invite others, some that I have never met, to join me in my journey. One of the coolest things for me, is to be a part of the blogging community. I've met so many people that are so incredibly interesting, talented, silly, hysterically funny and real. I have more friends now than I've ever had before and I get a chance to get to know these folks without having to do anything but leave a comment. I can talk to them at three in the morning and they can respond at 6am and I don't get woken up :)
Getting started blogging is so easy. I swear, the hardest part is picking the name that you'd like to use. The name of my blog URL is "ttelroc" which is my last name spelled backwards. The name I've used to title my blog is "The Goat," explained
here
. So don't worry if the URL name isn't exactly what you like, but think carefully so you don't end up with the URL "I love bacon" and you end up mostly talking about cooking vegetarian foods! If you aren't sure if you want to spend money on a domain name, web hosting and all that goes along with that, you can find a bazillion free blogging platforms. The ones that come to mind right off the bat are
Blogger, Live Journal, or Wordpress.
You can start blogging here and move your blog later if you feel you want your own domain name later. Get your feet wet before shelling out the cash :)
I use Blogger. I use one of their free templates. I don't have ads or stat counters and even though I really should figure out how to use a custom template, this way is just so easy that I haven't taken the time to learn how. I just wanted to get my thoughts and photos online and that's what I've done.
I take my camera everywhere with me. I snap photos in the grocery store, at stop lights, on a walk, at my mailbox, everywhere. I started blogging by using my small 5 megapixel camera and that worked out real well. I recently upgraded, but having a camera that isn't a cell phone (just for the quality of photos) is all that is needed. I download my photos from camera nearly every day onto my favorite online site for photos -
Photobucket
.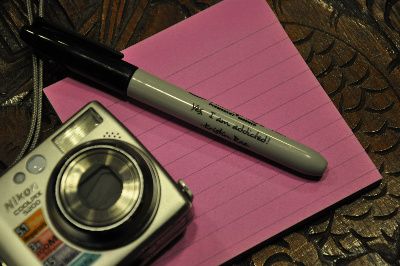 One thing that every blogger shouldn't be caught without is a piece of paper and a writing instrument. I can't begin to tell you how many times I have been caught without anything to write on when I think of a great blog topic or am part of a situation that is just too funny to forget. It's best to write it down and expand upon it later rather than try to remember what happened.
One of my friends,
Leigh
, writes about the places she visits, the restaurants and shops in her community and she gives tours of her town via her blog. She gives the restaurants name, website, hours of operation, owners name - she really gives them the full treatment. She does this because she truly wants to promote businesses that give great service, however, a side benefit is that when someone Googles about that particular store, they might get to her blog. She may gain a new reader, just because she gave a review of a place she frequents. I've even visited a place that she reviewed and had a really great time!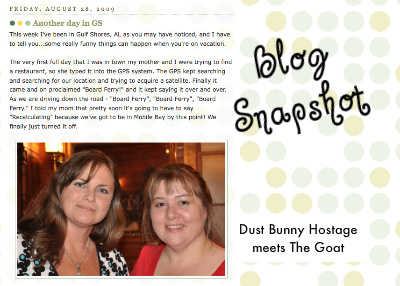 Blogs can help you keep in touch with your family, help you advance your career as a fashion journalist, or can be a way to vent away the frustrations of having 4 children all in diapers and a husband who travels. Blogs can be a place to show of your DIY skills and even sell those DIY creations. I've met so many people who say that they don't have a thing to say, but honestly, I think everyone has something to say. Our lives are all unique and our lives are indeed fascinating. You can even meet your blogging friends when you travel!!
One of my keys to a successful blog is to update your blog often. If you decide to blog 5 days a week, keep up that pace. People who start reading your blog will get used to your schedule and will keep coming back for more. If you blog once a week or two, it's really hard to create any enthusiasm, but it can be done. Personally, I blog every day. I like making it a daily part of my life. I do it mostly for me, but sharing my life with my blogging friends is something that I truly enjoy. Thank you friends :)
Thank you to those that come here and read my stories. Thank you to those who read my stories and comment. Thank you for those that give me something to read each day and something to comment on just as often. I love being a part of your community. If you have any additions to my Just Start, Blogging for a Newbie, please post your comments and suggestions.
Thanks!
Kristin Corlett