The changes that have taken place are so dramatic and yet so small. We have been painting everything white. Well, it feels like everything. All the trim, baseboards, crown molding & doors.
Our idea was to take all the doors outside and spray them. We just needed a day without rain. Maybe two.
Rain.
Rain.
More rain.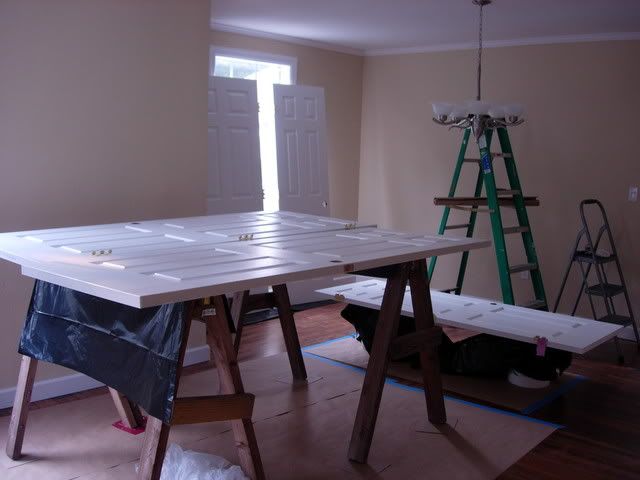 Plan B. Take the doors off their hinges and paint indoors!
This has been the scene for the past two and a half days.
We have one more door day to go.
I still need a no rain day, as I have three exterior doors that need to be painted.
I thought I'd show you the kitchen again. It is a bit cleaner. We put on the handles yesterday, but I forgot to take a picture of it.
This is such a cool range hood. It tested all of Robert's tile cutting and installing skills. He did a pretty good job.
I love this sink. I also an really pleased with the faucet.
This is the bathroom without all of the blue tape. The electrician moved the light, so now I have a spot to patch (and paint) so I thought this room was done, but it isn't quite yet - but it's close!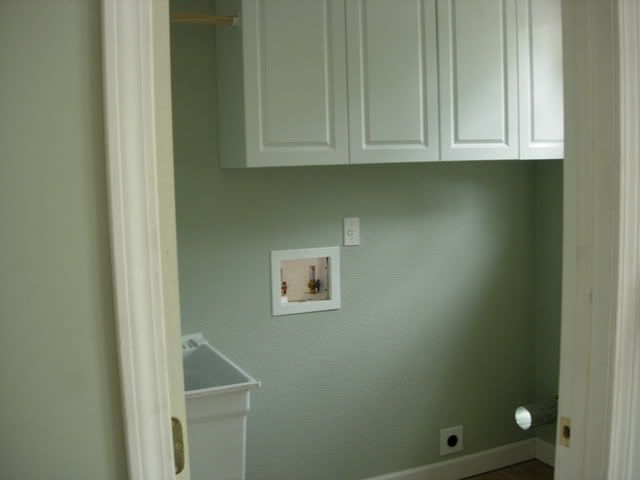 Tom and Robert installed cabinets in the laundry room. I think they look great.
So that's the quickie tour of the Jupiter flip. The missionaries are coming again tomorrow. I keep pinching myself that they want to come help. We should have all the windows washed and floors sparkling by the end of the day tomorrow.
Have a great day!
Kristin