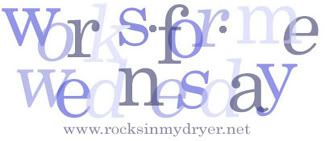 Shannon at
Rocks in My Dryer
is hosting Works For Me Wednesdays as usual. So far a few hundred tips have been posted. After you read what works for me, head on over to Rocks in My Dryer for more tips!
A few days ago I realized we were finally to a point in our house flip, that we needed to have a list of everything that was left to accomplish. We had a bunch of little things that needed to get caulked or painted and we had a long long list of things that needed to be cleaned, ready for the new owners.
I gathered up my Sharpies, Post-It Pad, husband, our carpenter and the electrician and we proceeded to write out the list.
The Post-It pad is on a cardboard easel (if you choose to use it that way) that measures, 20" x 23" and has a sticky strip at the top of the paper, so it can stick just a like a Post-It...it's just giant.
I use these giant Post-Its when I am cleaning my rental condos. I write out my tasks and put the sheet up on the side of the fridge and mark off the tasks as I go along.
These are just great for large projects when the TO-DO list is large.
My tip - go to your local office supply store and pick up an easel pad (I prefer the Post-It one) and use this for large projects, maybe a packing list for that big vacation, or use the large pad for getting your Thanksgiving dinner together without missing a single ingredient.
The Giant Post-It ad works for me. I hope it works for you!
Have a great day!
Kristin