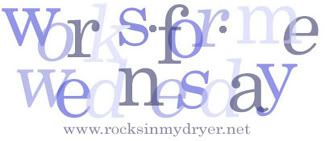 Todays Works For Me Wednesday tip is about a way to keep kitty litter pouring easily. I buy a 25 pound box of the stuff, so anything that keeps it easy to pour and store is my kind of tip!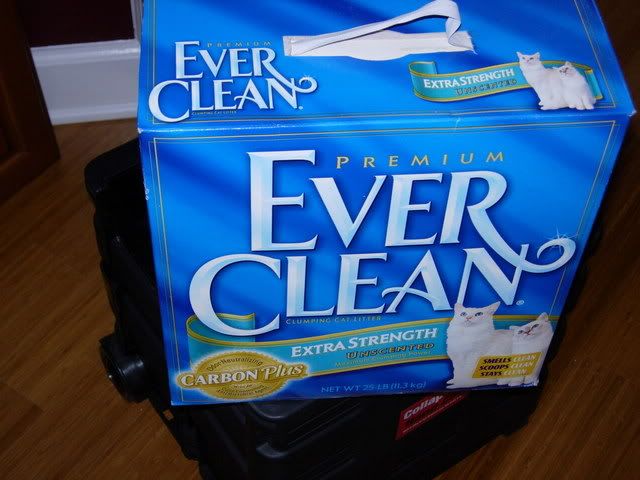 This is the box of kitty litter that I use. I've used this same brand for years. All 11 of my kitty's life and possibly even with previous cats. The box design hasn't changed in all that time. I think there are several different brands of kitty litter that use this type of box.
When you open up the box, this is what you are left with. A big open area to pour out the kitty litter.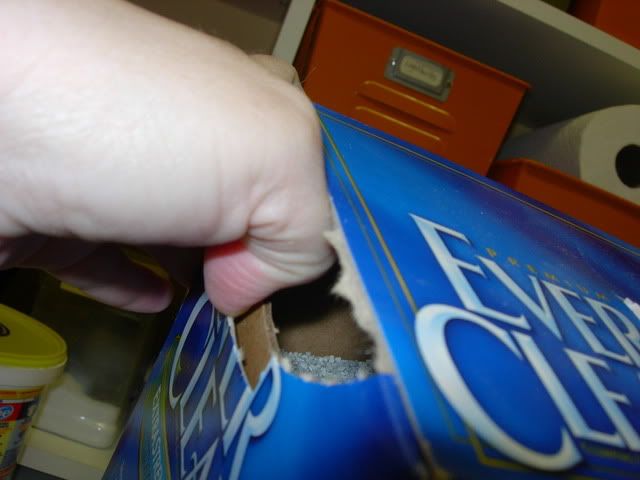 Please ignore the pastey white claw hand LOL But, do you see the gap between the thick cardboard and the outer cardboard? If you pour out the kitty litter, that area will fill up with kitty litter. It happens to me every time. I'd say about a cup of kitty litter goes into this wasteland and it doesn't come out easily. I used to end up with kitty litter all over the floor whenever I tried to dump out that last remaining litter.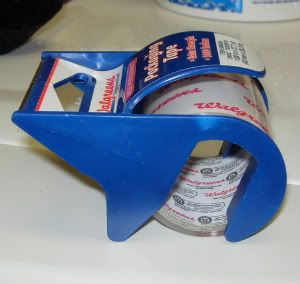 See this? This is packing tape. One day (just last month) I put together the packing tape and the kitty litter. It was a marriage to last forever.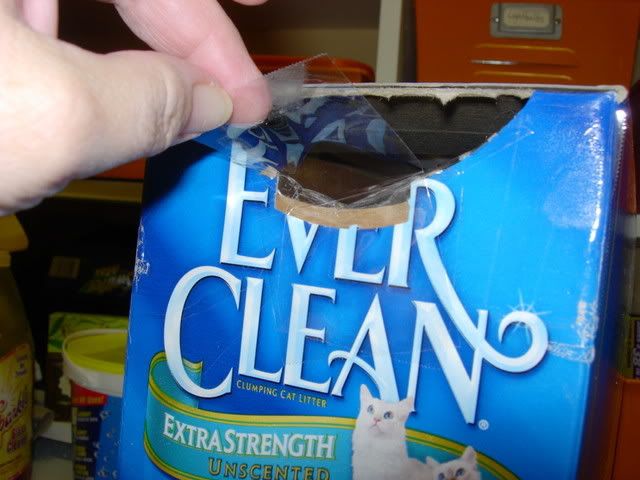 I placed two or three small pieces of packing tape on the inside of the box, and wrapped it over the gap and on to the outside.
It should not have taken 11+ years to figure this out, but it did. Learn from my mistake.
I really like this kitty litter, it doesn't produce huge clouds of dust, it works excellent, it clumps tightly, it comes in unscented thankfully and my kitty has never had any trouble with it. The box didn't work for me, but now with a little packing tape, it truly does work for me.
Thanks so much for joining me today. Please leave a comment and then go over to
Rocks in my Dryer
for more fabulous tips and suggestions to make your life easier.
Have a great day!
Kristin