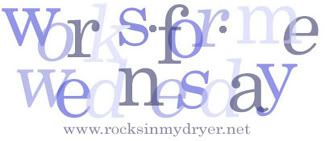 This week over at
Rocks in my Dryer
, Shannon has asked us all to give our favorite 5 Ingredient or Less recipe. If you are looking for a new foods for the summer this is going to be a great week for you. After reading my fabulous recipes, go look at everyone else's.
I
blogged about mine
a few months ago (Has it been that long already?) But, it needs repeating. It is Rice Salad and it is a great dish. This is a family favorite and so easy!
I make this in 4 ingredients... I leave out the tomatoes (unless I'm taking it somewhere) and I almost always forget the parsley LOL
Rice Salad
2 boxes Uncle Ben's Long Grain and Wild Rice - original recipe (Fast cook is OK, but I prefer the 25 minute kind)
1/4c plain yogurt
1.c Hellman's Real mayonnaise
1c. cucumber peeled and sliced (I like the English cucumber - just use the whole thing)
1c. tomatoes
a few sprigs of fresh parsley chopped
Cook the rice as directed, omitting the butter. After the rice has cooked, mix in yogurt, mayo, cucumber, tomatoes & parsley and serve warm or cold.
I have to admit, I almost always forget the parsley lol I also try real hard not to eat it all when it is freshly made and still warm — oooh lordy, it is wonderful. Rice Salad is a HUGE hit at potlucks and family reunions. It is a staple at nearly all summer family events & bbq's. Enjoy!
My next recipe is probably one of my best Go To meals. I usually make this for myself, but I also make it for my husband and I as a breakfast.

Summer Eggs
Onions, diced (or green onions, sliced)
Summer squash, cut up however you'd like.
Mushrooms, sliced
Seasoning (dill, garlic powder, onion powder, Herbs de Provence - whatever you like in your eggs)
Eggs
Cheddar Cheese
I saute onions, summer squash and mushrooms if I've got 'em, in a non-stick pan. Grate up some cheddar cheese, set aside. Crack open a few eggs, toss in some dill & garlic powder if you want and give them a quick beating. When the veggies have gotten a bit soft, toss the eggs into the pan - stir with a spatula until the eggs have just barely cooked through - sprinkle in the cheese toss quickly and pour into serving dish or individual plate.
I try not to empty the fridge out into these eggs. It is too easy to add in a bunch of leftovers (ground turkey, bacon, ham, cream cheese) I suggest that if you want to use up leftovers, make a large batch of this - use a dozen eggs and feed a crowd. I usually just go for the veggies & eggs, but 5 ingredients is about tops for this dish. Anything more and you lose the lightness of the meal.
Have a great day. I can't wait to see what delicious recipes are over at
Rocks in my Dryer
.
Kristin
My previous WFMW posts are located here...
WFMW