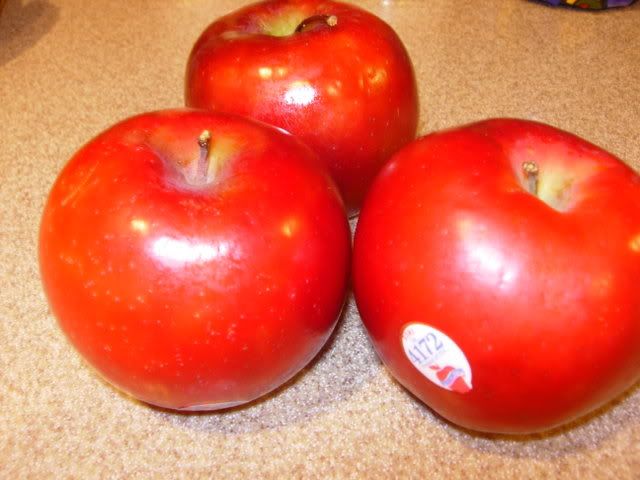 One of my favorite foods is homemade, fresh made applesauce. My mother used to make us applesauce every so often and it was always such a treat. I can almost see the apples cooking in the microwave. Yep, the microwave. I swear the microwave is the best apple cooker. The apples pictured are Rome apples.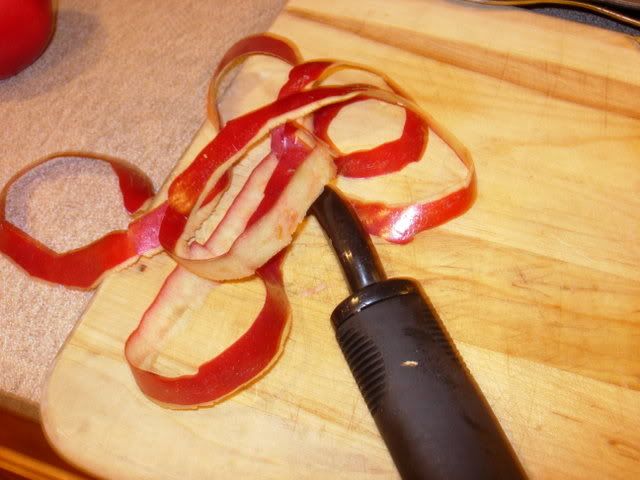 I like to peel my apples with a veggie peeler (this one is an OXO brand - my favorite) and I start at the top and cut and twirl all the way to the bottom. Then I cut the apple in half and then cut along side the core on the three sides. I do this with each half. Then I roughly chop the pieces and put into my microwave safe dish.
If you are confused about which apples are better for baking - here's a little list.
Excellent Baking Apples: Cameo, Cortland, Golden Delicious, Granny Smith, Jonagold, Jonathan, Rome
Good Baking Apples: Braeburn, Empire, Fuji, Gala, Ginger Gold, HoneyCrisp, Newton Pippin, Pink Lady
Some people like to mix tart apples and sweet apples. It's a matter of preference. I generally just use Rome Apples.
This is my favorite microwave dish. In the olden days when microwaves were newly invented there were microwave dishes that were nearly indestructible and we used them for all microwaving. I found one at a garage sale once and snapped it up in a second. I think I paid a dollar. It is the best microwaving dish ever. Then a few years ago I decided we needed to have another one because sometimes we needed to microwave two items. So I searched on eBay and found another one. I paid an outrageous sum for it. I see several on eBay today - at not so outrageous sums. This one is an Anchor Hocking Microwave dish - but I think it searches better if you leave off the word dish. Also on eBay in that same search is the bacon tray we used to have. Fun.
OK, so here's where I admit to you all - 99.9% of the time if something is put into the microwave, it first goes into this dish. I don't use my plates or bowls or plastic ware or anything but this microwave dish or a Pyrex measuring cup if I'm heating up a liquid.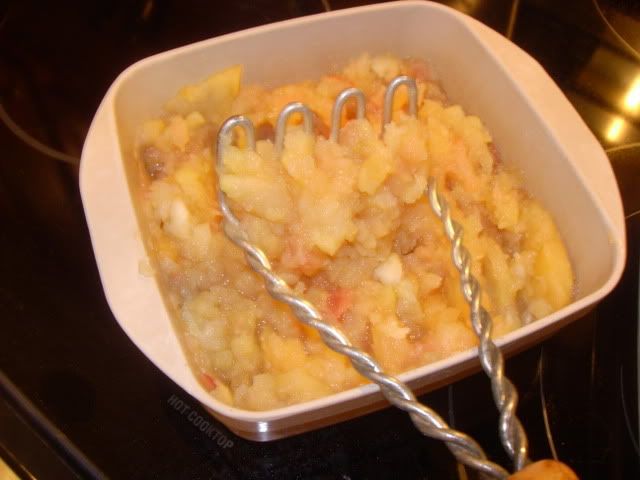 Ok, so back to the apples. I microwave the apples in my Anchor Hocking Microwave dish with the lid on for about 3 minutes. I use my potato masher to smash the apples. If they are a little tough to mash, put them back into the microwave for another 30 seconds or so. Mash again. Mash lightly if you want really chunky apples or mash & smash for smoother sauce. I like a fairly chunky sauce. I usually package the apple sauce into a glass container with a lid and pop it into the fridge to eat later. If I am making this for dinner - I serve it piping hot.
I do not add any sugar or sweetener to my apples sauce.
YUM!!
PS. I've got a few of those microwave dishes on my watch list on eBay. So let me know if you're going to bid on them and I won't bid against ya. LOL
Thanks again for such a lovely birthday week. It was one of the best ever. I'm mailing out all of the gifts to the lucky winners tomorrow afternoon. So depending on where you live from Florida, expect to find a gift in the mail this week!!
Kristin