Green Onions.
I love Green onions. I don't however enjoy cleaning them and getting them ready to chop up. So what I do is I clean and cut up a lot of them all at once. That way I can just toss green onions into my salads, in my scrambled eggs, into anything I want really without having to spend any extra time after the initial cleaning and chopping.
Here are my beautiful Green Onions. I've cut off the root ends and have peeled off the top layer and cut the tops a bit. I like the green part of the green onions, so I leave a lot of it for me to chop up.
Sometimes I chop green onions into little rounds but normally I cut each piece lengthwise first. This makes it so that I don't have little wheels rolling all over the place. When I cut little rounds I swear that half of them roll off the cutting board onto the floor.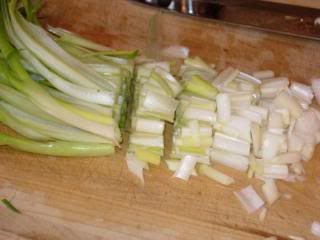 I line up the green onions and chop chop chop. I chopped up the rest too, but stopped to take a picture.
Have you ever had such a step by step of chopping a green onion before? SO glad you stopped by!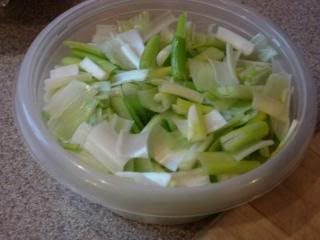 Then I gather it all up and put it into a plastic container and toss into the fridge. If I don't use them all up before hand, these will last a week in the fridge.
I precut a lot of my foods to make it easier in making salads mostly, but just to make putting together something quickly and not dirtying up a bunch of dishes. I shred cheese, chop broccoli, brown ground beef, brown ground turkey breast, red peppers (my husband likes those,) and many other food items.
This is what prompted the green onion chopping session - I decided to use the last two summer squash that were in the fridge, some of that fabulous spinach, the already browned ground beef, eggs and some green onions. It was delicious! My husband came home as I was making this, so he even got a little bit. I only put in two eggs so it was a little skimpy for two, but still, it was real good.
This picture was taken before the eggs were added.
Have I made you hungry?
Have a great week!
Kristin