On the little info sheet that I filled out for the Secret Santa swap I was asked if I collected anything. I couldn't think of a thing! You all that know me can laugh now. I am a collector and I know it, but the past few years I have been trying real hard not to ADD to my collections. I've been decluttering. I've been purging stuff I don't need or want. I have been anti-collecting (or so I'd like to think!)
I did finally come up with a few things that I do currently collect. Dishtowels - Love those dishtowels (as long as they aren't the waffle-weave ones) and pottery bowls. I think that's all I came up with for my collections.
Friday, Tom and I went to downtown Jacksonville. While we were there and since it was lunchtime we headed over to Jacksonville Landing. It was quite a hot spot for food. I had no idea. We will have to go back again!
As soon as we walked in the door I saw it. The penny smashing machine. The official Jacksonville Landing souvenir penny machine. I collect smashed pennies. I even have a book to put them all in. That's a picture of my book at the top of the page. I just got another book at the beginning of the year because as you can see, my first book it totally full - with the exception of that one spot!
When my sister went to Hawaii on her honeymoon I told her not to buy me a gift. She never listens to me lol She brought back a penny. I have pennies from Las Vegas, Niagara Falls, Seattle, Gatorland and now Jacksonville Landing. I have purchased a few smashed pennies from eBay. My friend Ingrid and I visited Crater Lake in Oregon and when I saw a smashed penny for that attraction, I just had to get it. I also purchased a 1934 Chicago Worlds Fair smashed penny. I wasn't around for that event, but I find it incredibly cool that I have a penny.
I love this little collection of pennies. It is small, easy to carry, easy to store and so inexpensive (if you don't purchase pennies off the internet.) Usually the cost to smash a penny at a machine is 51 cents. The penny that you use to smash should be 1982 or earlier. The newer pennies contain a lot of zinc in them and when the penny is being elongated, the silver from the zinc shows through and creates distracting streaks in the design. However, if that's all you've got, then go ahead and smash it.
This collection isn't giant, as you literally need to go away on vacation or something in order to get a new penny, but in the past two weeks I have added two pennies to the collection. This one from Jacksonville Landing and another from Fort Cody in North Platte, Nebraska.
If you ever want to pick up a new hobby or start your kids on a fun hobby, try collecting pennies!
Have a great day!
Kristin
UPDATE:I couldn't get these to load last night for some reason.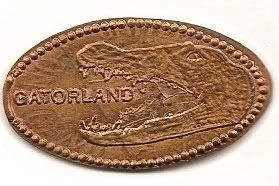 This is from Gator Land in Orlando, FL. I got this a few years ago when I went to this tourist attraction (trap) with my friend
Bob
and her two kids.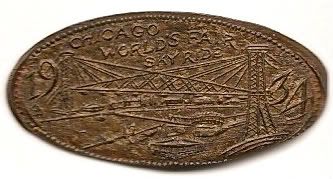 This is the Chicago Worlds Fair penny I talked about. I just love it. I like that it is really detailed, too. The end is really curved, so that's why it is a little blurry on the ends.
This is the gift from Alison and Jim. Love it!!