It's Friday Fragments Day!
It's Friday Fragments Day!

Welcome to
Friday Fragments
! This is the place where we're able to put little snippets of fun or interesting things together without having to stretch that idea into an entire blog post. I have missed the past two FF days, so I'm anxious to get back into the Fragmenting grooooove!
Mrs. 4444
is our lovely host and I am so grateful for her continued hosting of this fun carnival. For more
Friday Fragment
finds, please head on over to
Half-Past Kissin' Time.
Thanks!
*•-:¦:-•:*''''*:•-:¦:-•
Everyone has a photographic memory. Some don't have film.
*•-:¦:-•:*''''*:•-:¦:-•
Steven Tyler made me cry last night (American Idol on Wednesday) when leaned down and gave the girl in a wheelchair a kiss and said "...that's why he sings so good, because he sings to you." Oh Lordy, turn off the faucet! I didn't expect to burst into tears like that. Whew. (I'm actually typing this moments after he said it, so I'm still wiping away tears.)
*•-:¦:-•:*''''*:•-:¦:-•
Bigger Really is Better
when it comes to ordering photos. I just found this on a photographers website. Her name is
Amy Ro
and I couldn't agree more with her point of view.
*•-:¦:-•:*''''*:•-:¦:-•
If you hadn't heard, my friend, Julie, who needed a second liver transplant has gotten it and is doing very well. She's still in the hospital and will probably be going to a rehab facility in the next week or so to continue her progress. I am so very grateful to everyone for the thoughts and prayers for her recovery.
*•-:¦:-•:*''''*:•-:¦:-•
December 2010 Timelapse Blizzard video
-This was 32 inches of snow in Belmar, NJ. Whew!
You Northerners have been getting so much snow that I think nearly every one of you could have taken this video!
*•-:¦:-•:*''''*:•-:¦:-•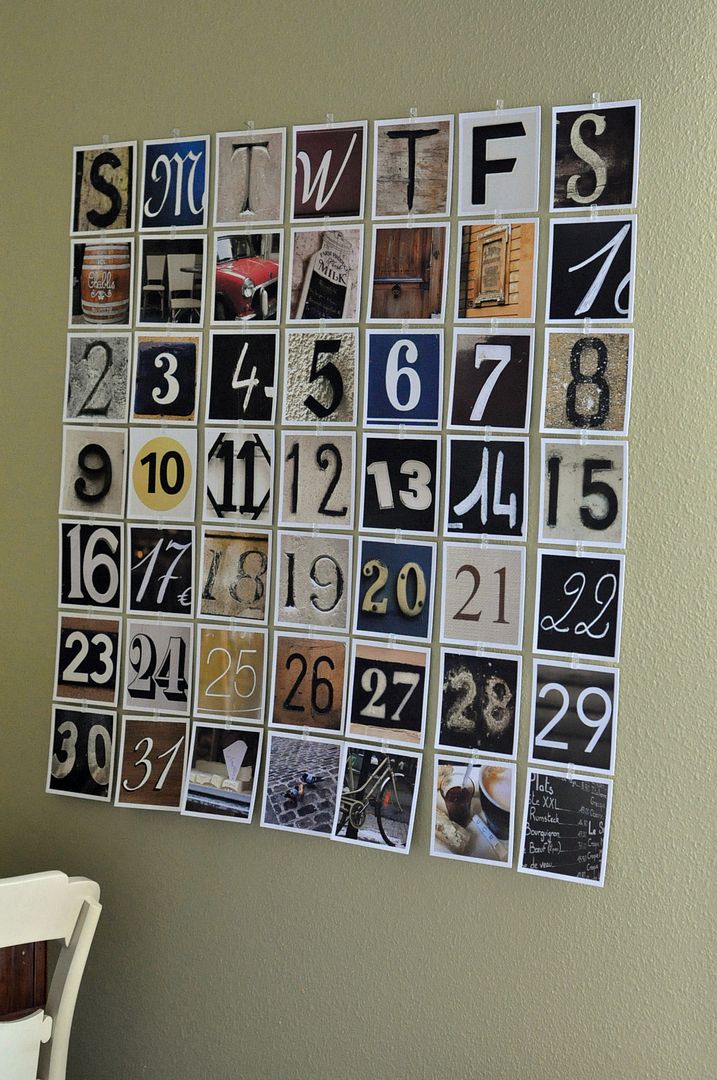 I purchased this
Perpetual Paris Calendar
for my husband to give to me for Christmas. :) Sometimes it's just better to do things that way! When I went to the
Little Brown Pen Etsy
site I discovered that this calendar is now 30% off. Good deal! The other night I finally put the calendar all together. Of course I did it in the middle of the night and without a ruler or a ladder, so I'm glad I didn't wake the downstairs neighbors and that I got the rows fairly even. I really really love it and it looks great with the mossy green wall paint I have in the guest bedroom.
This photo is the calendar installed in my home.
*•-:¦:-•:*''''*:•-:¦:-•
I'm a diabetic and have been controlling my blood sugar very well since I was first diagnosed, but my weight gain has been out of control. Things needed to change, so my new doctor that I really like, referred me to an endocrinologist. My first appt with the endo after my labs was just the other day. We discussed my issues and he listened, then he decided to change up my medication. I hope it works for me as one of the side effects is NOT weight gain.
It seems like every medication that works for me has a side effect of weight gain - and within a few days, I gain many pounds. Many days later I gain many pounds. That keeps up for a few weeks and then the weight gain stops, thankfully. I've gained myself right out of my clothes and into higher doses of insulin, which can cause weight gain. Vicious cycle. I'm optimistic that this Dr. can help me and I can lose this weight again, and maybe a few dozen more :)
*•-:¦:-•:*''''*:•-:¦:-•
Thanks so much for stopping by my place. I hope to make it to yours this weekend, too!
Kristin