On May Day, my husband called me and asked me if I'd like to go to the beach. If you know me at all you know that I really don't like the beach...but he just wanted to go spend a few minutes there, not make a day of it. So I went.
You can click the picture above to make it larger, but it's still hard to read. I saw two turtles on the drive over and saw quite a few birds while at the beach. Thankfully we didn't see any beach mice. :)
I found these lovely flowers growing all along the boardwalk to the beach.
This is what my husband wanted to do. He wanted to just stand and look. That crest he's standing on is one giant shell beach. It gets sandy closer to the water, but it's still pretty "shelly."
If I go to the beach in Jacksonville, I usually go to Neptune Beach, which is on the North side of Jacksonville. Neptune beach is pure sand. Soft, glassy, and sandy! This beach (I think it was called North Beach) is about 10 miles south of Jacksonville. I was quite shocked to see the difference in the beaches.
I think the crushed shells are just gorgeous. I couldn't stop picking them up, letting them slide through my hands back down to the ground. The colors, shapes and textures were fascinating. I'd wished I'd had something to take a handful home with me, but I didn't...so I took a picture instead. My new frugal & clutter busting technique.
It was sort of windy, but not too bad. The sun was shining and it was about 83 degrees. Did I mention I was dressed head to toe in black? I'm not a beachy girl. We only stayed about 30 minutes, so I was fine.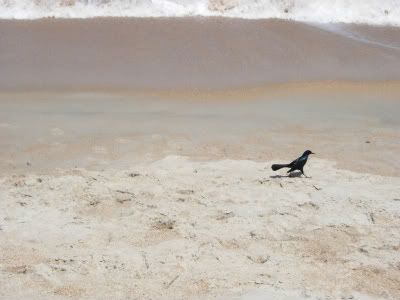 This little bird was dressed in black, too. He was following the water line without getting his feet wet.
It was so funny. run run run. Stop. run run run. Stop.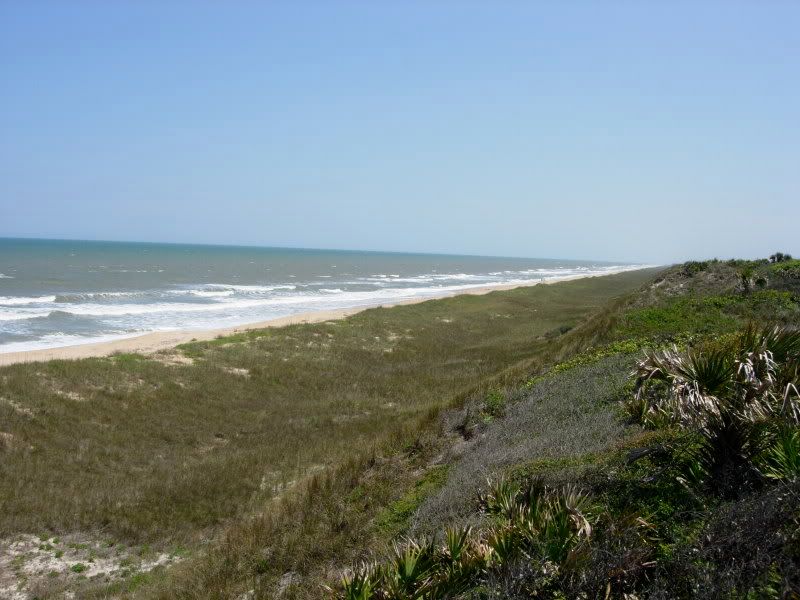 I was standing up on a lookout platform. What a great view down the coast. When I've flown over this part of Florida it's truly incredible how straight it is. One big long line without interruption for a hundred miles or so. High dunes that dip down to the sand and ocean. It's a marvelous site.
Kristin