Welcome to another edition of
Thrifty Thursdays
hosted by Leigh of
Tales from Bloggeritaville
. A fun little time to hunt around the house, the garage, someone elses house and garage or even a thrift store or two to dig up some cool finds. Be sure and check out the other Thrifty Finds, from the other participants.
This week I went hunting in my own house. But the inspiration for this came from this photo and the
Cafe Cartolina
blog. There are several really cool display ideas, so be sure to click over and take a look.
I saw that photo of the cooling rack used to display greeting cards, and immediately fell in love! So I went to my cupboard, pulled out my cooling rack and realized it was probably only good for displaying gift tags lol It's about 8" x 8", so each side is less than 4" - None of my cards would fit. I bet I could find one in a thrift store! I'll have to look, because I like this idea.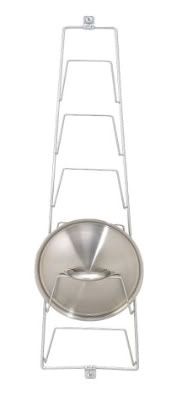 This is a
Pot Lid Rack
from
IKEA,
which I purchased there for $2.99. What a deal! Only, I don't have any pot lids that need storing. So I came up with my own ideas.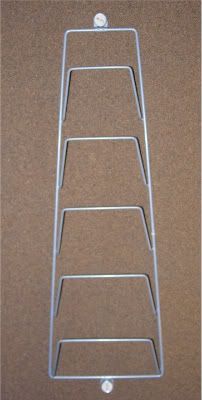 This is the Pot Lid Rack on my bulletin board. I've just used thumb tacks with extra long pins to secure it to the board.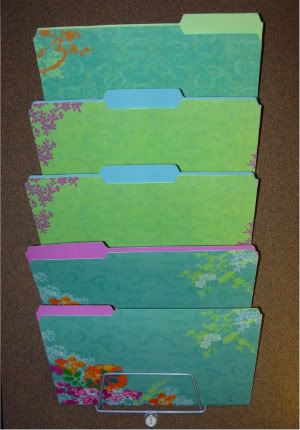 You can put file folders in the spaces if you use them frequently. What a great way to organize them and keep them off your desk.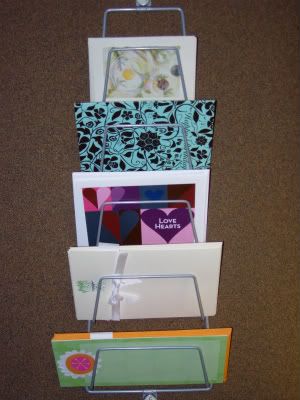 Here I have my cards sorted out. Small ones on top all the way down to the larger ones on the bottom. It looks so pretty.
You can attach this to a wall and use it to hold wash clothes or hand towels in the bathroom, it can hold those little Martha Stewart "Everyday Food" books, or even those little Pillsbury theme books (like Appetizers, Crock Pot meals, etc) - I think once you look around, you can find a lot of uses for this very thrifty holder.
Have a Wonderful, Fabulous, Thrifty Thursday!
Kristin