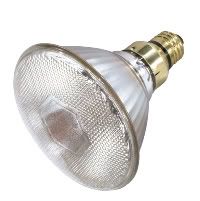 I've got 7 of these in my kitchen ceiling.
I've always liked these halogen lights because they light up the kitchen so bright.
Now with all of this florescent lighting going around I finally decided that I'd try one in the kitchen.
UGH
I hate it.
It never comes on quickly and it isn't recessed into the fixture, so it sticks out and bugs me (on a daily basis.)
A month or two ago, one of the lights in the far corner burned out.
I didn't replace it.
Shortly after that one burned out, the one over the fridge burned out.
I didn't replace it.
So now I had 5 lights in the ceiling and one of them was the slow to turn on florescent light.
It was getting pretty darn dark in the kitchen, but I was getting used to it.
At least I had the light over the sink.
until two nights ago.
and I had a sink full of dishes.
I had a lamp ready to plug in if it was far too dark.
So yesterday I purchased 3 new halogen recessed indoor floodlights.
Goodness! We have light!
It's a good day.
Kristin