Welcome to another edition of Thrifty Thursdays hosted by Leigh of
Tales from Bloggeritaville
. A fun little time to hunt around the house, the garage, someone elses house and garage or even a thrift store or two to dig up some cool finds. Be sure and check out the other Thrifty Finds, from the other participants.
I stopped shopping for stuff several years ago. Every so often things come into my house, but for the most part I go to the grocery store a few times a week and that's about all the shopping I do. So when I went to Ireland and the Isle of Man this past week (Be sure to come back and read about the trip. I've got three posts up so far.) -- Yes, so on my vacation I wasn't there to shop. BUT I knew I had to bring back souvenirs and I knew they had to be thrifty because airplane fare, food and lodging was 99.9% of my budget. I had very limited space in my bag to carry anything, too.
I'm obsessed with mail.
I love mailboxes.
I love paper to write on.
I love writing out addresses on envelopes and I am in love with fun stamps.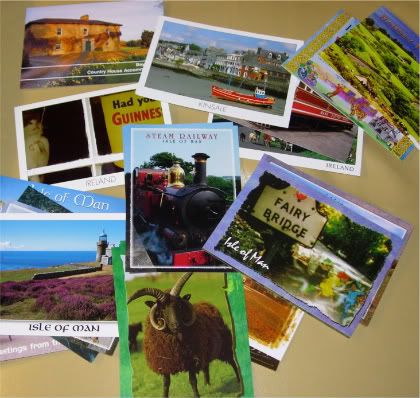 Before I left I decided to invest my Dollars, Euros and Pounds into post cards. I copied off a few dozen names and addresses of friends and family and took them with me, so I could send off postcards to them as small gifts :)
Then I made sure that I got a really nice assortment of postcards for myself, too.
Continuing the Thrifty Theme - I'm going to mail out a few dozen more post cards to people, even though I'm home. It's much cheaper to send the cards to the US, in the US.
I only got to the Post Office in the Isle of Man and not in Ireland, so I was only able to bring home IOM postage. I usually like to get a few stamps from countries that I visit. It's a very inexpensive way to get a souvenir. The flower stamps were 1 cent, 2 cents and 4 cents each- so that's REALLY thrifty!
This stamp was so neat - it's an IOM stamp that shows the US landing on the moon. It's even got a US flag in it. I thought it was the perfect stamp to bring home.
I did end up buying one shirt and I had to buy a windbreaker/rain jacket because I was not prepared for the deluge of rain we experienced. Other than that, my Thrifty Souvenir adventure was perfect and I don't feel like I missed a thing.
Oh, I also took over 400 photos! Those were really inexpensive, too!
Please go on over to
Leigh's
place and see who else joined in on the carnival.
Kristin
I was asked by Marie of
Vintage Postcards blog
if I'd like to link up to her blog carnival about
Postcard Friendship Fridays
. I thought it might be nice, so I did :) If you'd like to see more fun postcards, stamps, pictures of mailmen or other things postcardish, go on over and take a look. I'll have to do the same!