I broke down.
I know I said just a few days ago that I don't shop very often
BUT when it comes to stationery, I have a hard time resisting.
These are the cards that I ordered the other day from
ilee's Etsy shop
. Last year I ordered a few things from her shop for Christmas but when I first found her over a year ago, I ordered note cards.
The cards are all gone now. Not a single letterpress card was in my stash.
I wanted to write Thank You notes to a few people and all I had was my
recycled note paper
. That paper is really cool, but for people who don't know me, getting a Thank You note on a torn out piece of a catalog is confusing.
So anyway, a few nights ago I caved in.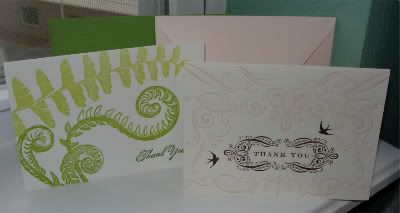 The package of cards arrived yesterday. I didn't expect them to arrive until the middle of the week, so this was a nice surprise! Enclosed with my order were these two Letterpress Thank You cards. I love that she does that. It's the perfect way of saying Thank You!
Thanks
ilee
! I love your Etsy shop.