This week I've been in Gulf Shores, AL as you may have noticed, and I have to tell you...some really funny things can happen when you're on vacation.
The very first full day that I was in town my mother and I were trying to find a restaurant, so she typed it into the GPS system. The GPS kept searching and searching for our location and trying to acquire a satellite. Finally it came and on proclaimed "Board Ferry!" and it kept saying it over and over. As we are driving down the road - "Board Ferry", "Board Ferry", "Board Ferry." I told my mom that pretty soon it's going to have to say "Recalculating" because we've got to be in Mobile Bay by this point! We finally just turned it off.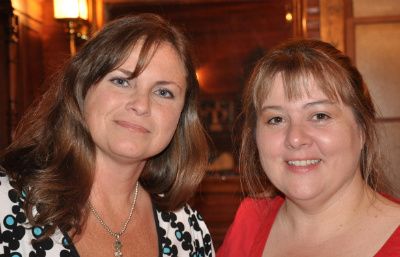 I met Jennifer from
Dust Bunny Hostage
tonight. Oh my goodness, that was so much fun!! It is always such a treat to meet people that you've only known through blogs. You feel like you know them a bit already, but having a body and voice to go with the words that you read daily is just so great. I think we spent nearly the entire dinner laughing and telling funny stories. I loved every minute. Thanks Jennifer!
One funny thing that I said, that she told me was a keeper was this... I said that the reason why my husband won't get rid of his stuff that he is never going to use again is because he wants to get the full value of what he paid for it, even if the darned thing is 10 years old and well worn. I told her that I wished he understand that as soon as your purchase is hauled out of the store, it's value is $1.
I told my mother today as we were looking at furniture, that I really didn't need anything. Goodness, my house is just overflowing with furniture and other assorted goodies. I can hardly get in the door as it is. However, as we were going through these furniture stores I found several pieces of furniture that I need. I'm talking, down in my soul, I've got to have that in my home! There was a set of 6 or 8 white leather (or leather-like) dining chairs that were to die for...they were so comfortable and gorgeous. I want them. There was this barrel chair... which really is all you need to say around me. I love barrel chairs. They have some kind of pull on me. I just sold my beloved barrel chair that I used in my last several homes. I sold it at a garage sale for $5. What a deal - I made $4 over its $1 value!
We went into a consignment furniture store (where I found the white chairs and the barrel chair) and it was an incredible place. I have a consignment shop near my home in Jacksonville, that is nothing like this place. This place here in GS is huge! It was a ton of fun to walk through and see all the different types of furniture and pictures and what nots. The prices in this place were a bit high, but still, on some of the items, way below retail. The nicer the stuff, the higher the price that's for sure. I bet this Gulf Shores condo will be sporting some consignment furniture in the near future.
That's all for tonight, I'm going to head for bed a little early.
Have a great day!
Kristin