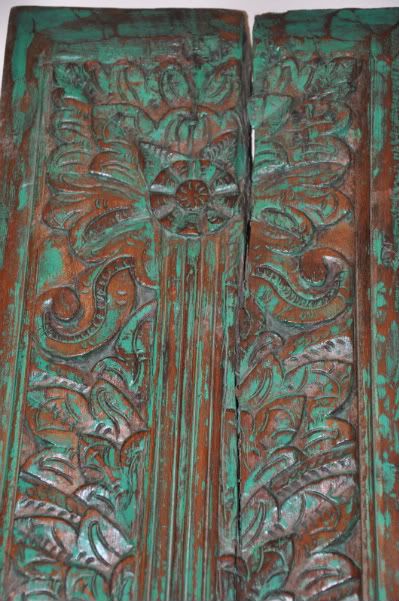 Plank #1
Last week I went to an antique shop and spied these carved wooden doors or shutters. Actually, I have no idea what they are. I do know that I love the carvings and I adore the color. In looking at the plank below, I do believe that the paint was covering the entire piece at one point, not just blotchy as it is now.
I wonder who made them? I wonder how long it took to carve these? Was the whole house adorned with these or were these special pieces that were unique to the home? Are they shutter? doors? wall hangings? large cupboard doors? Hmmm, I wonder.
Plank #2
When ever I see things like this I immediately think of Mexico. I saw a lot of this type of design in New Mexico and when I went to Cabo SanLucas.
I had a friend in college (I went to the University of New Mexico in Albuquerque) who took me home for dinner once. Laurie was her name. Her family lived nearby although she lived in the dorms across the hall from me. Anyway, it was at her family's place where I saw things like this. Their home was like stepping into a high end Mexican hacienda. It was just gorgeous. They lived on a farm/ranch and raised horses as I recall. They might have had a race horse or two, but honestly I can't remember. I do however remember this story - Laurie's mother told me of the day she met
Secretariat
and was able to take a lock of his mane. It was one of the top 10 days of her life, at that point. Her face lit up when she talked about that day.
Funny how things make their way to the front of my mind when I totally wasn't going in that direction. I lost touch with Laurie after my first year at UNM, but I will never forget her home or the story of Secretariat.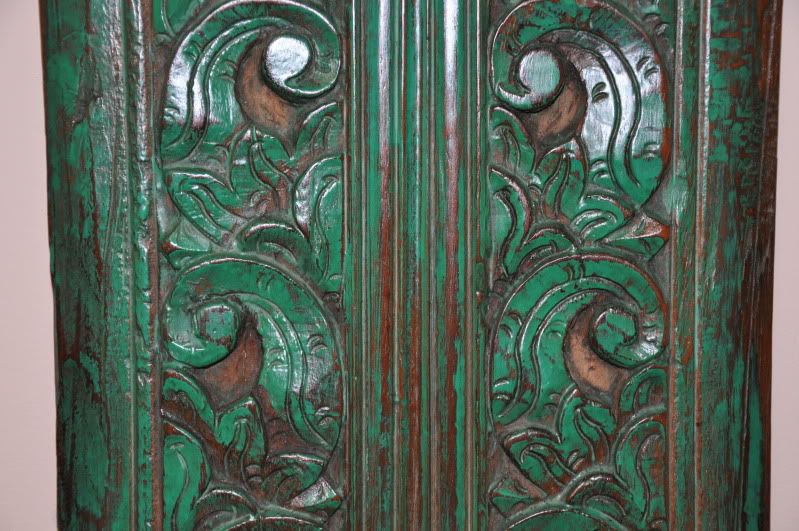 detail of plank #2
Now, back to the wooden planks.
They almost looks easy to recreate - I mean, how hard is it to carve a leaf shape or a curl?
Upon closer inspection, I can guarantee that I couldn't recreate any part of these wooden pieces with any degree of success. I spent the last two days working with vinyl and I couldn't carve out a little notch with any great skill :)
I have no idea what these beauties cost and I don't know anything about them. OK, I do know one thing about them -- they were about 8' tall and about 16" wide. I also know that they would look fantastic in my house!
Have a fantastic day!
Kristin