Welcome to another edition of
Thrifty Thursday
hosted by Leigh of
Tales from Bloggeritaville
. This gives us all a chance to have a fun time hunting around the house, the garage, someone elses house and garage or even a thrift store or two to dig up some cool finds.
Be sure and check out the other Thrifty Finds, from the other participants. I'm always amazed at what folks submit and how often I wish I'd found it, or bought it or noticed it...whatever IT is :)
This week I'm showing more of my photo finds from the Antique Mall here in Jacksonville, FL. I didn't buy any of these items, but every one of them tugged at me and made their presence known to me.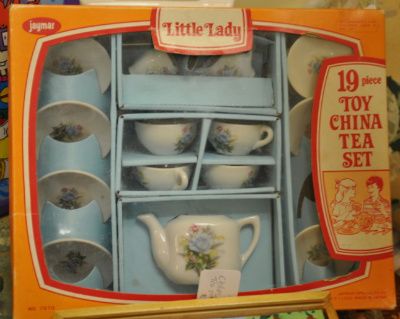 This was one of the very first things that I spotted. I had a china tea set when I was little and I loved it. I didn't ever use it to play tea, but I used to set it out for my dolls and I'd stack the dishes and arrange the place settings. I think it was during those moments that I feel in love with dishes. This set was marked $7. I thought that was a pretty good price for a complete set.
Next up was this set of pink kitchen appliances. They were a mess. They were used and abused and probably left in a basement or garage for a long time. I liked that they were a set and pink. These could be thrifty at $60 - in great condition they could be worth hundreds of dollars - but in this case I included them because I'd never seen a whole set before.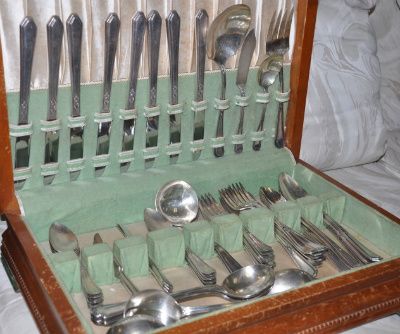 I almost pulled out my wallet for these. I'm a sucker for silverware. This silverware was heavy and fabulous. It was also $65, a real bargain in my books. Below is a close up view of the soup spoon. It is SO deep. It's a real soup spoon. You can actually get a nice big bite of food with this spoon.
Oh, I loved this set of silver.
If I didn't have two other sets of silver already, I would have added this one to my possessions.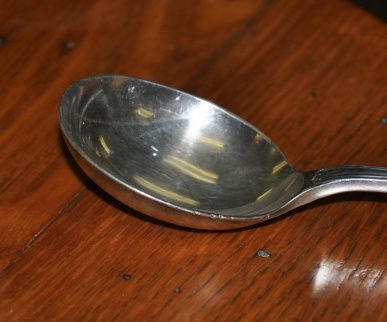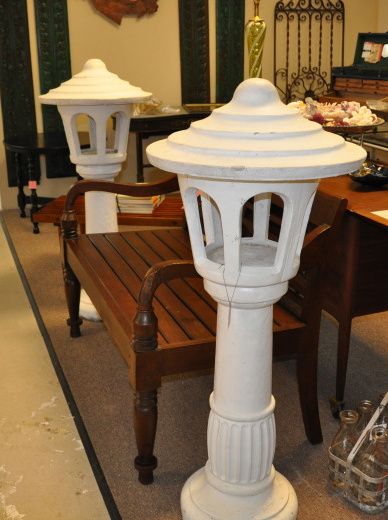 These white pagodas, pillars, whatever they are, are made of wood. Carved. Totally cool. $300 for the pair. What a statement they'd make in a yard. I want a plant in the middle and I want to paint them some wild color. If I had a yard I would have figured out a way to stick these in the car and haul them home.
In the background are the carved wood shutters that I featured a few days ago -
here
.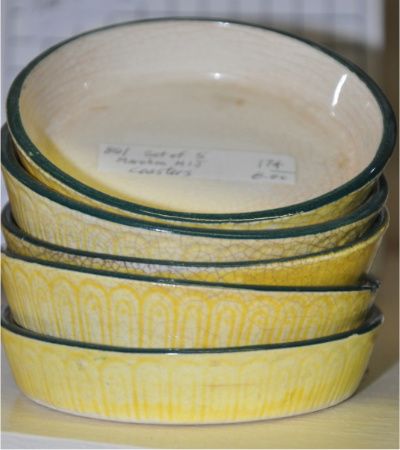 My last find were these yellow coasters. I think the price says $6. These were so sweet. I don't think I would ever use these as coasters. I'd probably use them for snack plates. I have small dishes that I use for a handful of nuts that I nibble on in the evening, a scoop of cottage cheese or maybe even as a little dish to serve my kitty her wet cat food. Yellow and green is one of my favorite color combinations.
I hope you enjoyed my stroll through the antique mall. Please stop by Leigh's place to meet the other
participants
. I know I will!
Have a fabulous Thursday!
Kristin