My mom and I have done quite a little bit of exploring and shopping while in Gulf Shores. I mentioned yesterday that I really wanted a set of chairs and also a barrel chair. To answer the question, no, I did not buy any of them. I don't need it, I can't really use them, I think they are wonderful and beautiful but someone else can love them and buy them and I'll just be happy knowing that. At least that's what I tell myself.
I did however make a few purchases. Both of these items came from a lovely little town called Fairhope, Alabama. What a cute little town on the Eastern Shore of Mobile Bay. Loved it!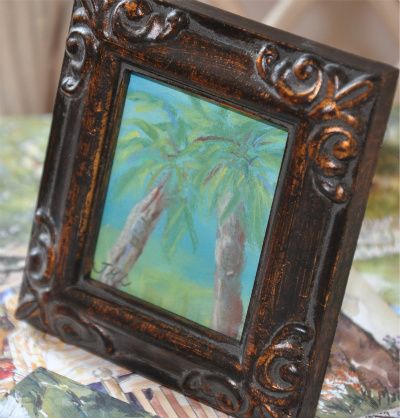 At the Fairhope Artists Gallery, I saw a number of items that I'd love to take home with me, but this little tiny frame with a pastel of palm trees by
Janice Lane
stole the show for the price. $20. It's in such a wonderful carved frame, goodness I couldn't help but love it. Not to mention that I have a fondness for palm tree artwork.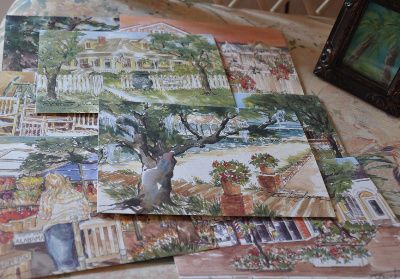 This assortment is a pack of 9 cards from local artist
Christine Linson
, who has a gallery right on the quaint main street of Fairhope. She painted all of the artwork in the store and has documented a lot of the town of Fairhope in her paintings. The card collection that I purchased are prints from original watercolors. I hope I'll be able to part with them and send them on to others to enjoy.
I really liked her style and just HAD to pick up a pack. Christine was on site while we were there and even signed each card for me. She was so sweet. We had a lovely time shooting the breeze with her and her two cats. :)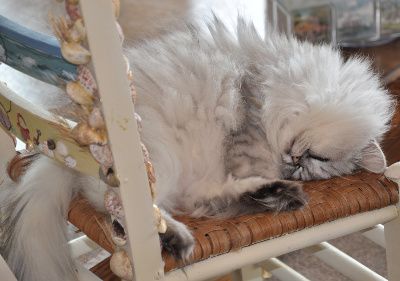 I just read this on Christine's website...
In 1998, while traveling to Fairhope Alabama, Christine "painted the town" literally. She fell in love with the sunshine and the friendly southern ambiance. She went back to her lifelong home in Cleveland Ohio, packed her bags and moved to Fairhope where she opened the Christine Linson Gallery.
The adorable cat on the shell chair greeted us at the door, just like that - all curled up and nearly upside down. The little grey persian-y kitty, who is of an unknown breed according to Christine and her vet, did not like me and my camera and would not open her eyes while I snapped photos of her. I sat on the floor with her, I followed her into the back room, Christine picked her up and held her - nothing. She would not open her eyes. ahh well.
I really liked Fairhope a lot and I can see why Christine moved herself down here after seeing the community.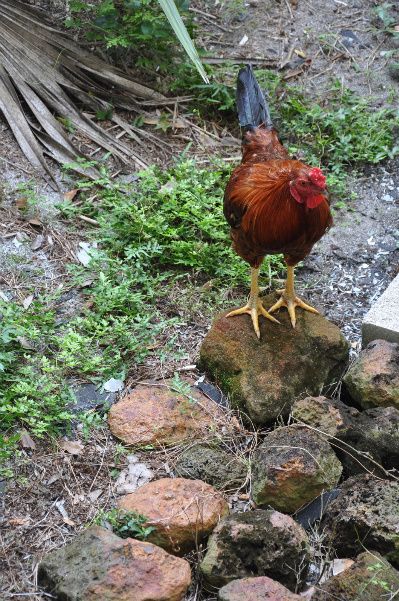 There was some kind of rooster party the other day on a bunch of blogs and I'm not home to photograph the one and only rooster thing that I own, but I did run into this character today. This is the rooster at the Swift-Coles house in Bon Secour, Alabama. Leigh from Tales from Bloggeritaville wrote about this place last month (
here
) and I have been making plans to go as soon as I read her review of the place. I'm going to talk more about the Swift-Coles house in the upcoming week (when I'm in my own house and comfortable at my computer desk, with my cat at my side and the TV running one of my favorite movies.) But this rooster was just a hoot. He appeared within a second of our arrival on the front porch. I forgot to ask the caretaker about him though, darn!
That's all the stuff I bought on this trip...just a pack of cards and small piece of art. I'm pleased that I can take those items home in my purse and not have to lug them into the house when I get home.
I hope you have a wonderful weekend, I'll blog again from my home in Jacksonville!
Kristin