I've arrived in Gulf Shores safe and sound. My mother and I have spent the last 8 hours talking and talking and talking. We've also been going through all of our digital photos and telling stories. ...and boy do we have a lot of stories. I'll get to those in the next few days, but today I want to show you the other pictures of the treadle that I took the other day.
This machine is a Sears and Roebuck, Minnesota New Model A manufactured in the 1920's and 30's. My Grandmother was born in 1905, so I'm thinking that she got this around the time she married my grandfather. This is only a guess. There is a plate below, that says that the patent is pending Aug 1920. So definitely after 1920.
If you needed to buy new needles, you were encouraged to send in a sample needle, laced through a piece of cloth or cardboard. You were also to include the certificate number from the front page of the instruction manual.
The original manual was in the middle drawer on the left hand side, along with three pieces of satin and a whole handful of rubber bands.
The rest of the drawers held a mixture of old 1930 - 50's stuff and some newer items. I for a fact that the purple seam ripper was mine and I found it in the top drawer, right side.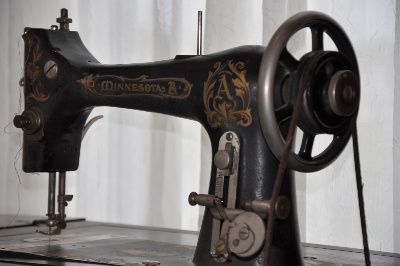 The
diamond ring
I found the other day, when I was taking these photos, turned out to be a nice piece of glass on a 24carat gold band. I blogged about it,
here
. I was really hoping it was going to be my grandmother's wedding ring, but nope. That's fine. It was a fun thrill though, thinking I'd found a real diamond ring in a drawer that I hadn't opened in a decade.
This is such a beautiful machine. That face plate is gorgeous. I had forgotten that the whole machine was so ornate. It's been hiding in a corner of our condo for three years.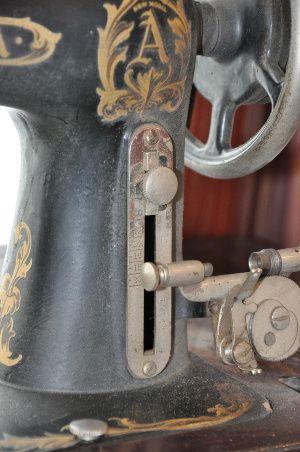 And the previous 3 years it served as an entryway stand. I kept a pottery dish on the top and it was the catch all place for keys, change and dust. I have always loved the treadle, so I enjoyed having it at our entry, even if it was never used for sewing.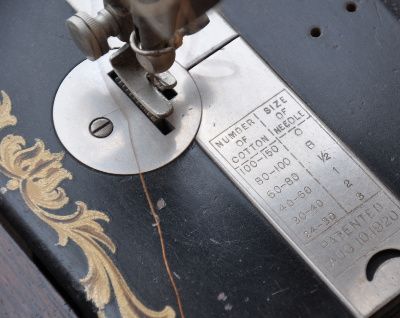 I don't know how to sew, but I have two machines. I have this one from Grandma Corlett and one from my other grandmother. I told my Grandma Henry that I thought it would be nice to learn how to sew and that I had a few projects if I ever decided to take it up. A few years later, long after I'd mentioned the sewing whim, she gave me her 1980's portable sewing machine.
She told me that it needed to be oiled and that she hadn't used it in years, but she was getting a new machine and wouldn't need this one anymore. Because I needed to figure out how to oil the machine, I never used it. I keep thinking I should find a place to sell it, or give it away, but I just hold on to it. So far it's not in my way, so no need to make a decision today. :)
While looking through the booklet for the treadle there are several diagrams on where you are to oil this machine. It needs a lot of oil! I'm sure to get this back to working order, it's going to need an oil bath. Not to mention a new belt. This one is nearly worn through in several spots.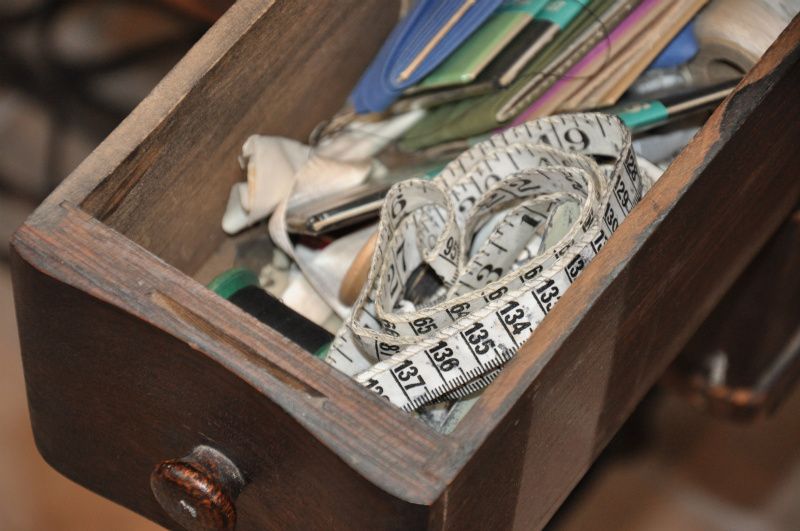 You can click to enlarge this photo. I did nothing to this drawer except open it up. This was the drawer Grandma Corlett must have used the most because it was chock full. If you can see, that tape measure it is well worn. There were several different kinds of thread, bobbins, bias tape in several colors and some fasteners and straps.
As I look at the certificate number I wonder if this sewing machine was the 236th machine in the Minnesota Model A. The Model A was manufactured by three different companies, for Sears, so it might have only been the 236th from that manufacturing company and not of ALL the Model A's made.
The bottom drawer, left hand side, contained the box with all of the accessories. There were so many different feet for this machine. You could hem, hem and add lace at the same time, pleat, and so many other things. The instruction booklet describes how to use all of these attachments, but I bet it would take a lot of trial and error to get the hang of those special features.
I had so much fun photographing the treadle. I didn't realize just how beautiful it was and am so happy to now have so much documentation of it. I've been wanting to sell the machine for quite some time and now that I've photographed it, I think I could sell it without any regrets.
OK, maybe a little bit of regret, but I think there's someone out there that would LOVE to have this treadle and I'll find them. Someday.
Ya know, it occurred to me that I should link this up with Leigh's
Thrifty Thursday
. It's vintage, it was free to me and it's now Thursday! I hadn't originally planned on this being my TT post, but I think it's perfect for this week. Not to mention, I'm afraid with all the projects/activities my mom and I have planned, I may not make it back here with a different TT post. I hope you've enjoyed the photo essay of my grandmother's treadle. I also hope that you'll stop by the other
Thrifty Thursday
participants to see what they found!
Have a great day!
Kristin