Welcome to another edition of
Thrifty Thursday
hosted by Leigh of
Tales from Bloggeritaville
. This gives us all a chance to have a fun time hunting around the house, the garage, someone elses house and garage or even a thrift store or two to dig up some cool finds. Be sure and check out the other Thrifty Finds, from the other participants. I'm always amazed at what folks submit and how often I wish I'd found it, or bought it or noticed it...whatever IT is :)
I've been absent from the Thrifty Carnival the past few weeks, but I'm ready this week :)
I went to St. Augustine a while back and somehow ended up in an antique shop. I don't think the reason was because I parked directly across the street from it, but that little detail certainly helped. It was a real nice place - lot of booths, lots of fun vintage things and I have to say - there were a lot of things in there from the 80's - The 80's can't possibly be vintage. My graduating class is having our 25th High School reunion this year. Is 25 years old really vintage??
One of the areas in the antique mall was the Stained Glass Window area. I love what can be found in stained glass. Tulips, shields, abstract designs, diamonds, flowers, etc.
I know, tulips are flowers :)
Why is this a thrifty post? Let me tell you! A few years back I was talking with a man who had hundreds, possibly thousands of stained glass windows and he told me that if you know you want to have a window actually installed in your home, to do it when you are building or remodeling because it is so much cheaper to make the opening fit the window you've already found and purchased than to try to find a window to fit an already existing opening.
He said to find the windows that you love first. I was surprised when I was going through all of the windows how many of them were not my style. Out of the thousands of windows I was easily able to narrow down the ones I loved to a small handful.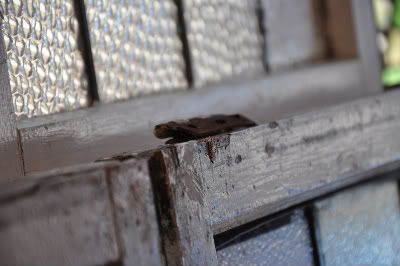 I didn't buy any, of course. I hardly ever actually BUY anything! At the time I was on vacation and wasn't about to start trying to transport glass windows to Michigan.
Personally, I would get some screw eyes (if the frame of the window is still quite strong) and just hang the window in a window instead of installing it. This is the second part of the THRIFTY aspect. If you hang the window in a window...you get the look of stained glass without the expense of hiring a contractor and punching a hole in your wall to fit in a window that may or may not fit right.
If you hang the window, you also get to keep the fun details like the rusted hinges, the peeling paint and you don't have to worry about it being airtight.
If you keep your eyes open you can find really good deals on stained glass windows. The ones pictured above were all over $100, but I saw a pair that I adored for about $30 (for the pair!) So deals can be found.
I hope you have a fantastic Thursday and get a chance to go visit the other
participants
!
Kristin