Here we go!
I received my package from Liz,
My Texas Family,
the other day. It was a large package and I was a little nervous that she had completely lost her mind and sent me too many things. :) Turns out that she sent me something that she made. by hand. with love. for me.
To say I was flabbergasted when I opened the package is an understatement.
(The Favorite Things Swap was hosted by
According to Kelly
- Thanks Kelly!!)
The card that she sent told me that she based her selection of items on the theme "Sit Back and Relax." She sent one of her favorite books, which by the way, I have NEVER read. (Insert gasp here) I know! I think about it, but haven't. I guess I was just waiting for someone to send it to me :)
Liz said that she just recently discovered this flavor of Country Time Lemonade and it's now her absolute favorite. It is going to be perfect for the hot muggy days here in Florida.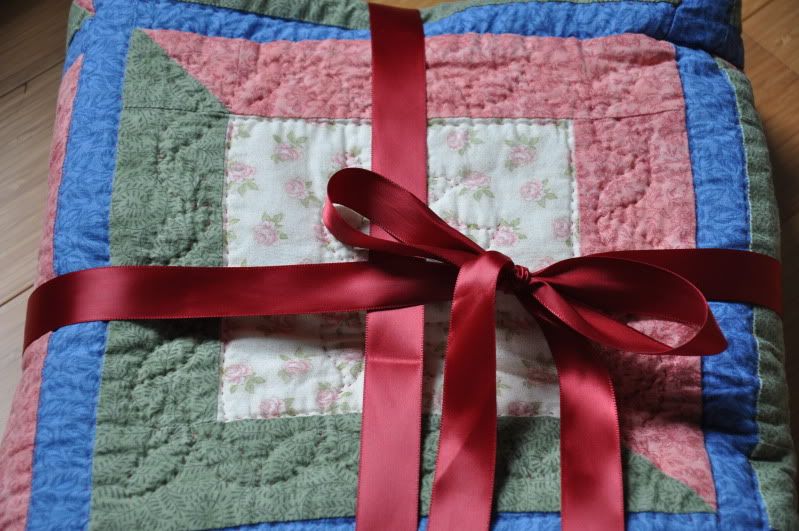 Now for this quilt. How beautiful. Truly, I was stunned that someone sent something like this. It's a piece of art that's been dropped in my lap :)
I took the quilt with me to Mayo Hospital and put it on the lawn to photograph it. I wanted to use the lawn at my condo, but the lawn guys were there - then the next time the sprinklers were going! So the quilt went on a little journey.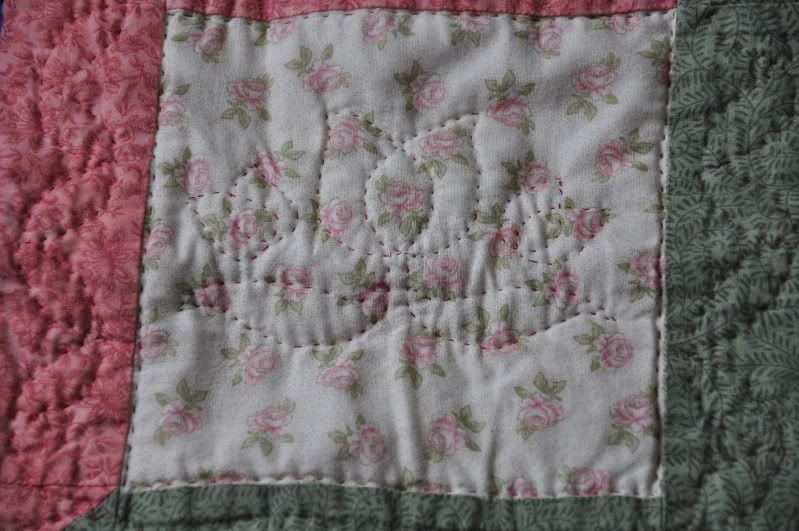 In the card that Liz sent she talked about the fabric...here's what she said. "The rose fabric is one I absolutely love. I bought the whole bolt about 3 years ago. You have the honor of having the first thing made with it. The pattern came from my favorite baby quilt book, but as you can see, it does not have to be just for babies. To be honest, I'm kind of jealous because it came out so good, and I can't make a copy because I used scraps for the rest of it. But that's OK because I made it just for you. I hope you Enjoy!"
I am truly honored to have such a lovely quilt. I do believe you were just waiting for me so you could make this :) I love it. Thank you. Thank you!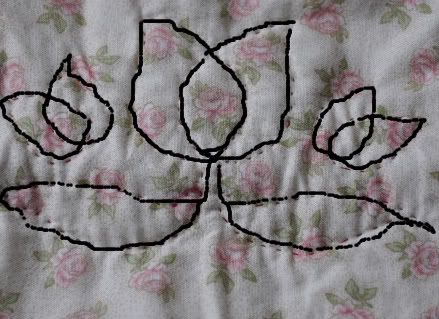 In the photo above I have crudely outlined the quilting pattern in the rose blocks. Isn't it just so sweet??!! If you go back up two photos, you can probably see the pattern now that I've pointed it out here.
Yesterday I talked about some of the items I sent her...all of the free printables on my post called
The Goods
. Liz talks about the quilt she made here in this post called
Back in the Saddle Again
. I'm so happy that she made it over the hurdle and is quilting again!!
If you'd like to see what other people have been giving and receiving in the favorite things swap, please go here to the
Favorite Things Swap Flickr pool.
Have a fabulous day!
Kristin