Hey folks! It's Friday so that means it's the update for Wreck This Journal.
What do you mean it's NOT Friday?
It's Saturday?
Really?
Hey Folks! It's Saturday, so that means I'm a day late for my Wreck This Journal update!! This is the last week that
The Next Chapter
, Wreck This Journal group is meeting to talk about the journal. I may have to have another update in the future as I'm not quite finished with the book. My niece Zora REALLY wants to do the "Eat some candy and lick this page" page. She tried a few times when I was visiting her, but she choose some very watery popsicles that didn't leave any mark at all. I've also got a few other pages that need to be finished, but I'm about 99% done as of today.
This page has been batted around the house, chewed, tossed into the air and otherwise played with so much by Mocha that the page is actually kind of soft. I finally decided to pick it up off the floor and put it back in the journal.
This isn't the greatest picture of me...it isn't that bad either - but it was one of the only ones I could find where my face was large enough so that I could get a decent shot of it for the blog. (It's always about the blog, isn't it?!)
I used a few of the special effects features in Photobucket to deface my photo. I think I used create a cartoon image then the blueprint effect. I now have a little heart on my cheek :)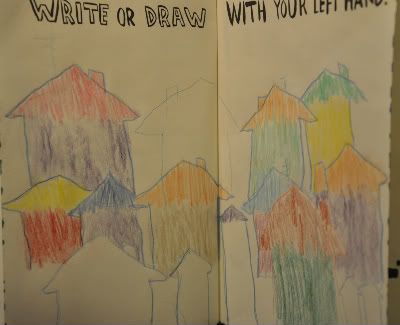 The left hand page. This was HARD. This took me days to complete. If you can't tell, they are all little houses. Some have antennas on the roofs.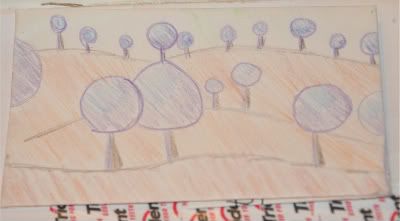 This is my "wrap something with this" page. The image is totally taken from
Warrior Girl's
header. I loved all of her lollipop trees...loved them so much that I had to recreate it. Thanks
Rowena
!! The paper is folded up and one flap is glued to the inside of the front cover of my journal.
This is the paper unfolded. I've cut the center out of a card I received from a friend of mine and placed it inside the paper.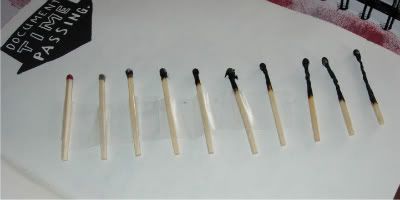 This is my Document Time Passing page. I thought about this for a long time. I wanted something visual that would represent passing time. I can't remember what I was lighting with a match, but the second I burned it I had one of those Ah-Ha moments. I hollered out - This is passing time!!
This picture is of a card that I've had for about 15 years. It used to be in a frame and over the years it ended up being loose and just in a pile of mementos in the closet. I like the picture because I had a white cat for several years and this reminded me of her. Well, in the middle of this journal wrecking adventure I found this card on the floor of the closet and it was bent and no longer frame worthy. I was so bummed. Then I thought of the journal. I thought that maybe I could glue it in the journal, even in its not so pretty state. I glued it onto the back of the "tear this page out and put it through the wash" page and then covered the whole thing in glitter glue. This is the perfect place for this card.
This is my fruit sticker page. I think this was taken a few weeks ago, because this page has more stamps on it now - but here it is anyway :) I think the Breyers label is a nice touch.
I would like to thank all of the participants in WTJ. This adventure was so much more fun than I ever imagined. Jaime Ridler who is the creator of The Next Chapter group has announced her next book. It's called The Joy Diet and she will start on Sept 18th. If you'd like to be a part of that group, please go to her new blog,
HERE
, to join the mailing list. I'm sure it will be just as much fun and inspiring as Wreck This Journal. I don't think you'll be tossing your book out of a window or anything, but it'll be fun, I'm just positive.
Thanks again!
Kristin