Mrs. 4444 hosts
Friday Fragments
each week. It's a great excuse to get all those little snippets that gather in the brain and don't seem enough for one post but together they can make one fun blog post! I'm so happy I finally remembered to get my post up before Sunday! :)
Goodness - last night was such a fun night of TV. It was three and a half hours of Project Runway on Lifetime. What a joy to have that back on again. The best thing was that I recorded it on the DVR, so I watched all three shows sans commercials :)
I'm so happy that I know my limits with my husband. We installed a floor in one of my rental condos last weekend and the last thing to finish up that room was to install new bi-fold doors on the laundry closet. The old doors were so ragged. The were a nightmare of splinters on every surface and couldn't be dusted easily. My husband HATES to install bi-fold doors and has such a hard time with them that I decided to hire my friend/contractor Dan - he helped with our flip house last summer. It took him 2 hours and about 6 trips out to the truck to hack the doors down with a skillsaw & make them fit. Nothing in those condos are square and it's frustrating beyond belief. I would have been seriously considering evil things if it were my husband and I working on those doors. Dan charged me $50 for two hours of pure insanity trying to get those doors installed, but he hardly said a single word about the door issues. We talked about his kids and vacations and his new truck and stuff. And when we were done I wasn't angry with my husband. Totally worth the $50!
Cat with Hat
My husband put his beach hat on our little bench the other day and ever since then Mocha communes with the hat each day. She normally doesn't give too hoots about this bench.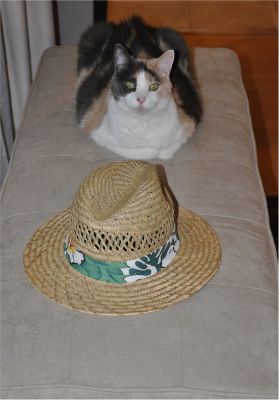 Ok, here's an embarrassing fragment, but I have to share. I get this maddening itch on my rear end every so often. To relieve the pain and itch, I put a little neosporin on a q-tip and rub it on the spot. The itch usually comes on in the middle of the night, of course, so I'm half asleep while doing this little process. The last time it happened I felt absolutely NO relief. In fact, it was really stinging. It was stinging so much that I knew I did something wrong. I looked at my neosporin and realized that I had used my travel tube of baking soda toothpaste with peroxide! Something that funny just has to be shared!
There are more participants in
Friday Fragments
over at Mrs. 4444's blog -
Half Past Kissing Time
. Some of the fragments are so funny - so run over and read some of them for a great start to your weekend.
Kristin