I was reading blogs today - kind of catching up on the photography blogs, design blogs and the things that I don't read every day. Well, I saw this lovely photo of sewing notions and that sparked an idea.
Keetha
, posted a picture of a sewing machine the other day, too - so sewing has been on the brain this week.
I have a treadle sewing machine that was my Grandmother Corlett's machine. I've had it for...goodness...15 years? 20 years? It's been awhile.
So I hauled out the vacuum (wouldn't want there to be years of dust being photographed!) Don't worry Keetha, I managed to get plenty of dust in the photos :)
and when I thought the machine was dusted just enough I started clicking away.
Artsy shots, close ups, sideways.
Then I decided to look in the drawers. As I recalled from the last time I looked through them, they were full of fun items and quite a bit of small pieces of fabric and trim.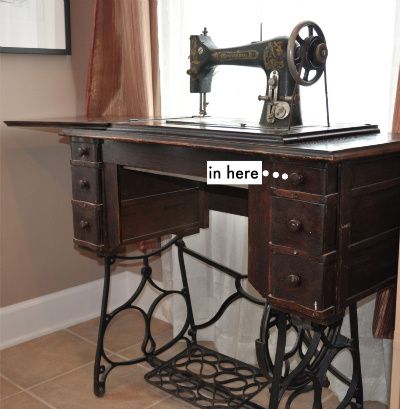 The first drawer I looked in is marked above. It was stuffed with a denim patch and a bunch of yellow trim and a few other items - so I pulled out the fabric and reached my hand into the back of the drawer to pull the few items forward.
The little green card is from a pack of Gurney seeds and coming with that was a ring. I snapped the photo first, then decided to investigate.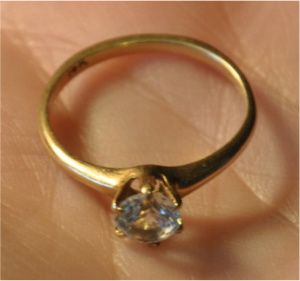 It's a ring. It's a diamond ring. It's got a tiny, thin band and it looks like it was worn quite a bit. I have no idea whose ring it is. I called my mother and asked her if she knew where Grandma Corlett's wedding rings were located and she didn't know either.
I honestly don't recall my Grandmother's rings. I remember her necklaces and earrings but not rings.
Could she have put her ring in the top drawer one day and never got it back out again?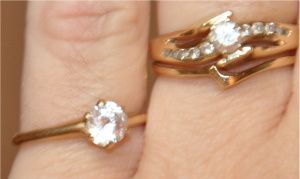 The ring fits on my pinky finger. The diamond in the ring I found is about twice the size of the middle diamond in mine. So now I'm wondering if it really is a diamond. My grandparents didn't have a whole lot of money and buying a large diamond just doesn't seem to fit into their lifestyle. And if the ring was just misplaced, it seems like she would have searched high and low to find it.
I guess it's remained hidden from me for almost 20 years but I have never used the machine.
Ahhh, it's a mystery.
I'm going to have to take the ring to a jeweler to see if it's a genuine diamond. That will solve mystery number one. As for the other mysteries, we may never know.
Have you ever found anything in your family heirlooms?
Kristin