This condo is one of my rentals. The carpet has been in that unit since we purchased it three years ago. I think that the builder put in the cheapest carpet ever because these carpets wouldn't come clean. If water was spilled it would stain - I'm serious!
I have an identical unit across the hall from this one and last year my husband and a helper installed laminate flooring over there. I'm not thrilled with the laminate. It's 100 times better than the carpet for my transplant patients, but the laminate makes snapping and popping sounds when someone walks across the floor. (not every step, but enough of them) Still, it's easier to keep clean, so I was still waiting for the right time to change out the flooring in the unit that still had the carpet.
Today was that day. We have all three of our rental units open and available right now, so tearing up the floor in one of them would be just fine because a potential tenant would have two to choose from if someone called and needed a place.
Here's the cart at the Home Depot today. We purchased vinyl plank flooring called Trafficmaster Allure in a cherry finish. What is vinyl plank? Well, it looks like a wood floor. It's long wide pieces of vinyl. They have little sticky tabs on the sides and bottoms that stick together, but the floor itself is a floating floor. It means that it doesn't stick to your existing floor. It's really pretty cool.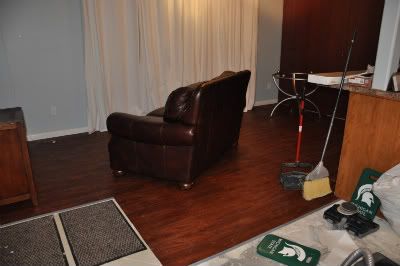 We didn't get it all finished today, so the couch and the table base had to come back in from the hallway outside - I forgot to take a photo before we hauled them in. I really like the way it's turning out. Normally I would have my husband call up one of his helpers and pay him to spend the day doing this, but I decided that I needed the abuse. Tom and I work well together at times and other times we don't. If it's something he doesn't want to do, then not working well together is probably the result. The first row is always the hardest. For Tom and I it was absolutely the hardest. Tom ruined three pieces out of the first four. Good thing we are fast learners! I decided that I'd try to make a template of the problem areas and that helped get us past that pesky first row. After that we went along fairly quickly and got into a groove and worked well together again. Unfortunately we didn't buy enough of the flooring, so we need to go back for 3 more boxes.
As of right now I don't know if I can get up off the couch, but I hope to finish the floor tomorrow. I think we got most of the hard stuff done today. I'll update you tomorrow (or Sunday) when we get it all finished.
Hope you have a fabulous weekend!
Kristin