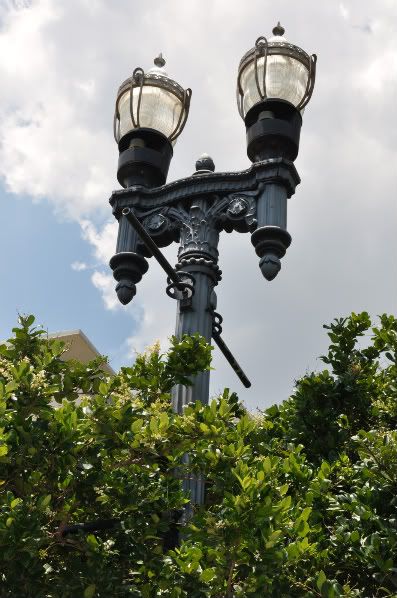 I now know that I'm clueless about all of the manual settings and will need more classes and more practice. I am pretty good at composition once I get back to photobucket and crop my photos. The rule of thirds is easy for me to see when I'm at home. I just need to learn how to see it in the real world first and photograph it. I'll get it.
This sculpture is out in front of the Cummer Gallery of Art in the Riverside section of Jacksonville - just a few blocks away from the light shown above. I think I need to print this off and stick it on the fridge so that I'll remember to actually GO to this museum. It was closed the day I took this photo and I keep forgetting that I want to go.
This is one of those times when I realize that some things just aren't a priority. I think they should be. I'd like them to be. But in reality, it isn't.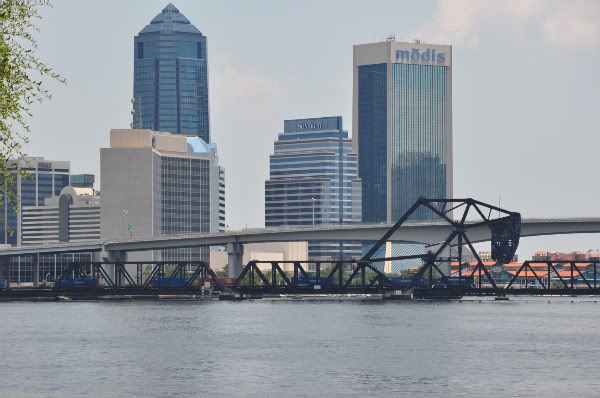 Can you see the orange roofs in the background? That's called Jacksonville Landing. I've been there once with Tom around lunchtime and it's a real zoo. There are a ton of restaurants, so it's a real hot spot for lunch. I was planning on walking over there on this day, but I didn't realize how far away it really was...not to mention, it was really hot!
This is a portion of downtown Jacksonville. I was actually trying to take a picture of that weird net looking thing by the RailRoad tracks. I keep forgetting to ask Tom what it is exactly because he would know for sure. It's a part of the RR tracks and it's made of steel, I'm sure. It might be part of the weight for the drawbridge portion of the track. Oh heck, I don't know!
Downtown Jacksonville is sure pretty. I'm a sucker for blue glass buildings to begin with, so I'm pleased to have several of them in the Jax skyline.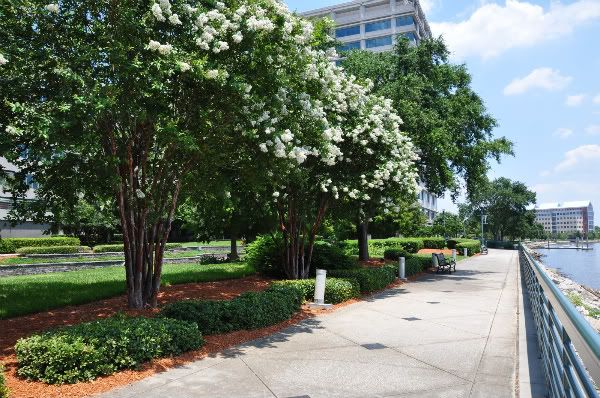 This is the walkway along the St. Johns River. The trees are Crepe Myrtle. They are just so beautiful. Just today as I was waiting for a light to change at an intersection a light breeze came up and the Crepe Myrtle that was next to me showered the car in gorgeous pink blossoms. It was so cool. I said Thank You right out loud, just in case anyone was listening :)
Have a fabulous day!
Kristin