A year ago on 08/08/08 was the start of the Beijing Summer Olympics. I love the Olympics so much, which really surprises me because I'm not a sports nut by any stretch of the imagination. I don't attend sports, I don't participate in sports and I normally don't watch them on TV (except NASCAR) but I sure am engrossed during the Olympics.
I'm not sure if it's the background stories or if it's pride for the athletes & countries or what exactly. Sometimes I wonder if it's just the that countdown clock in the corner that makes it so exciting. I want to see exactly how close they can get to that world record or how many tenths of a second the beat another competitor.
In 1994, 15 years ago, the Olympics changed the Winter Games to be a separate year from the Summer Games. Now we get the excitement of the Olympics every two years instead of 4. The Winter Olympics in Lillehammer, Norway (1994) was the first Winter Olympics to be held without a companion Summer Olympics the same year.
I have a very dear Norwegian friend, Ingrid, who helped with the Olympics in her country. She worked in Athletes Village as a housekeeper for the first week, I do believe. I remember her sending me photos of her and her friends with the Swiss Bobsled teams Gold Medals around their necks. They had just left them on the dresser in their room, so the girls couldn't help but to try them on! The second week I think she was selling food...sort of like the hot dog vendors at baseball stadiums, walking up and down the stairs. She worked the ski jump hill.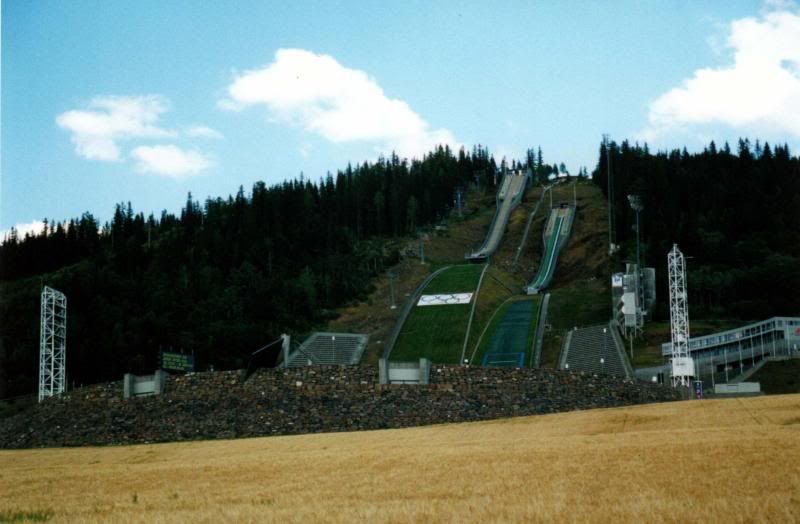 The following year, the summer of 1995, I went to Norway to visit Ingrid and we spent a whole day in Lillehammer. We went to the top of the ski jump and she showed me her path on the hill where she sold her wares, we visited a friend of hers who lived in what was Athletes Village. She showed me nearly every venue and we got to see where the Olympic Rings were carved out of the forest.
I was so excited to be in the same place as the Olympics had been. I was a year late, but I arrived!
I sort of got off track from where I started this post, but I think what I wanted to say was... I love the Olympics :) and one year ago today was the Opening Ceremony for the '08 Summer Olympics.
Have a fabulous day!
Kristin