It's Friday Fragments Day!
It's Friday Fragments Day!
It's Friday Fragments Day!
It's Friday Fragments Day!

Welcome to
Friday Fragments
! This is the place where we're able to put little snippets of fun or interesting things together without having to stretch that idea into an entire blog post.
Mrs. 4444
is our lovely host and I am so grateful for her continued hosting of this fun carnival. For more
Friday Fragment
finds, please head on over to
Half-Past Kissin' Time.
Thanks!
*•-:¦:-•:*''''*:•-:¦:-•
It's been ages, absolute ages, since I have actually made it through the entire Friday Fragment list and the Sundays in my City list. I love reading those two carnivals and I have felt a bit lost without my weekly reads. Thanks to everyone who links up to one or both and those who stop by my place, too. You are loved :0) I didn't get through all of last week's FF, but I did visit all of the SIMC folks. I hope to visit everyone in both carnivals this week!
*•-:¦:-•:*''''*:•-:¦:-•
Eagle Watch 2011
On top of the Emergency Room building at the Jacksonville Mayo Clinic an eagle decided to build a nest. The past few weeks we have been watching the nest for signs of life and finally it happened. Two little heads started peeking over the edge of the nest. A few more weeks and the eagles look big enough to fly from the nest at any time.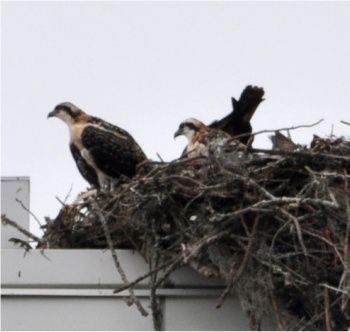 *•-:¦:-•:*''''*:•-:¦:-•
My friend Julie who had two liver transplants in January of this year has been home for a little over a month. She's now having a bought with rejection. Although rejection is fairly easy to treat to get back on track, she's had such a tough run this year that I'm asking for prayers. I wish she was back here at Mayo with her familiar team of doctors and the transplant support group, but for now we're going to have to trust that her doctors out there will get her back on track. Thank you!
*•-:¦:-•:*''''*:•-:¦:-•
I've been having trouble getting to sleep at a decent time - it's an ongoing issue - I get myself all turned around every few months and stay up all night and sleep all day. Well one of my friends suggested this: "Try thinking about things you are thankful for in alphabetical order... Puts you right to sleep." Now that's a great idea!
*•-:¦:-•:*''''*:•-:¦:-•
The status update of a friend of mine --
I had to laugh. There was an ad on PBS for the Waldo Flea Market.
With a straight face my mom turned to me and asked, "Where's Waldo?"
*•-:¦:-•:*''''*:•-:¦:-•
Hope you enjoyed!
Have a wonderful 4th of July weekend!
Kristin