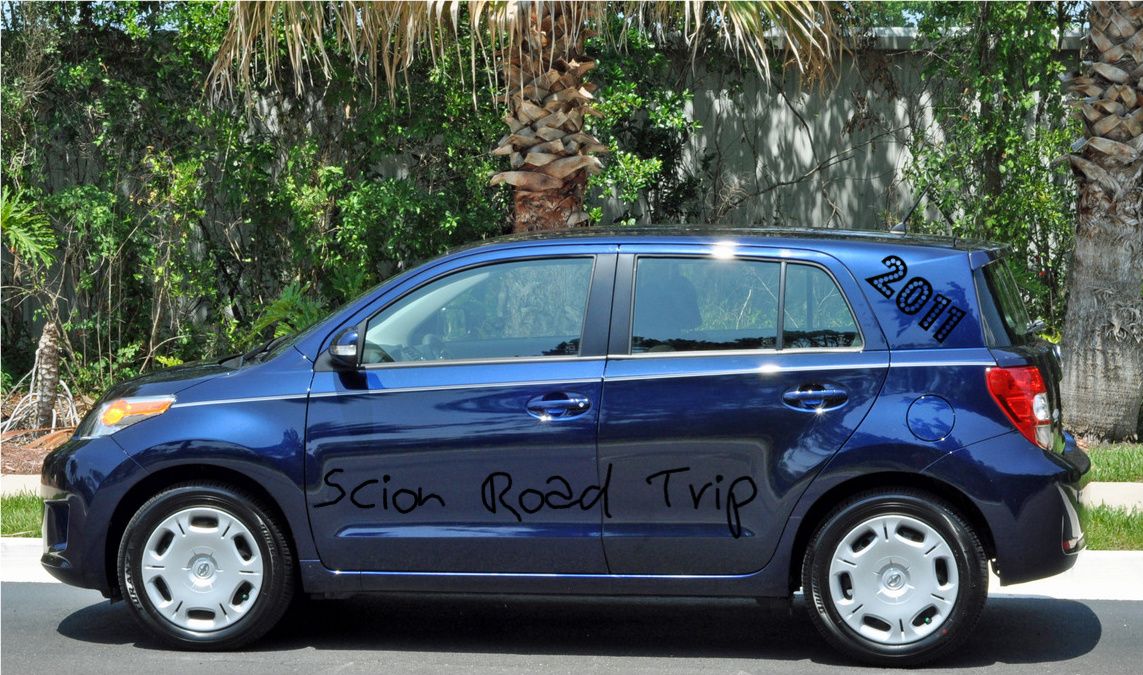 Welcome to the pre-launch of the
Scion Road Trip - 2011 Edition
.
I have decided that a road trip wouldn't be any fun without a car to drive and since I have this bright shiny new 2010 Scion xD that only has a little over 4000 miles on it, I might as well make it one of the stars of the show.
(Not to mention, if Scion wants to sponsor this trip or any upcoming trip, I'd be more than happy to feature my blue baby more often!)
My husband says that I shouldn't tell people where I'm going because I'm just inviting criminals to come to our house. Well, I'm here to tell you that I will be gone for almost three weeks and I have one husband, one cat, a painfully slow elevator to the 5th floor and no more assigned parking spaces all staying at home while I travel. If that sounds like something you'd enjoy, please call ahead so Tom can make you some dinner :)
The list of Things To Do the day before a big Road Trip is extensive, but the day before a
Scion Road Trip
is even bigger! I'm used to packing up my larger vehicle to the rafters just because I have the room. This time I'm being smart and packing only what I need so that I will plenty of extra room in the Scion to move around if necessary. I've already found that there is much more space in there than I originally thought. I'll be interested to see how packing goes.
I am so nervous that I'm going to forget some cord to some device that I've written about a dozen Post-It notes to remind me not to forget. I went to the store yesterday to get the very last bit of road food and Tom food before I leave. The very first thing on the list - peanut butter - was the only thing I forgot to pick up. I found a piece of furniture sitting next to the dumpster yesterday (it's a coffeetable with a dislocated drawer front - but the front was sitting on top of the table - all it needs is a little glue!) That's in my car now, so I need to drop that off. I have misplaced a prescription and I still need to fill another before I go. I also need to gather all of the names, addresses and phone numbers of the places I am visiting during my
Scion Road Trip - 2011 Edition
so that I will know where I'm going, but also so I can give a copy to my husband.
Other than that, all I have to do is pack up the Scion and head out in the morning. She's all gassed up and ready to go.
I hope that you enjoy the ride, I know I will!
Kristin
"Official driver of the
Scion Road Trip - 2011 Edition
vehicle."