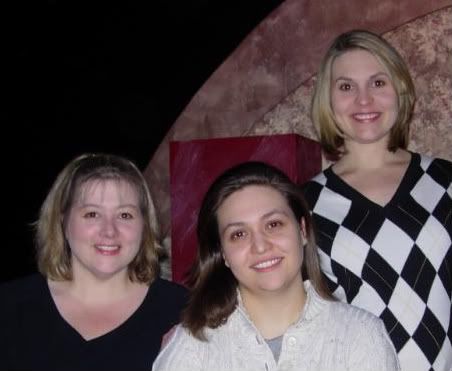 Kristin, Hillary and Alison.
I'm in black, Hillary is in the middle and Alison is standing up in back wearing the black and white. Hillary gets that far off look every so often. Not sure what she's thinking about.
I'm the oldest, Hillary is the youngest and Alison is right here (can you see the hand motion) she's in the middle. We were born more than 5 years apart, so according to some "experts" we are all considered first born. I think that's why we are so independent, so different and yet we are all so much alike. I've got the BEST family!
We took this picture on the stage at the Williamston Theatre the very first week of March 2008. We saw a preview of the play "Hate Mail" - it was very very good.
Funny, but I really like this photo of me. My sisters are going to get me for posting this, I can just see it coming. You know what, I don't think I've ever noticed this before, but Alison and Hillary have the same smile and the same type of mouth -- I've got a much smaller mouth (just like my Dad and Grandma Corlett.) Hmmmm, very interesting. I knew I had that same look, like grandma, but I don't think I'd ever analyzed that I was the only kid in the family to have it.
Well, here are the three girls. Alison is having a baby in just a few days. I can't help but think how exciting it is going to be for her daughter to have a sibling. It may not mean much to Zora the first year or so, but as she gets older, she will hopefully have an incredible relationship with her sibling as I have with mine.
Sending lots of love from Florida to Michigan!! Wish I could be there on the new baby's birthday.
Love, Kristin