I just got a phone call from my sister. Her husband's father passed away yesterday. He apparently had a heart attack in his backyard, while he was doing some gardening. Jim (my brother-in-law) lost his mother on Thanksgiving day about 10 years ago. I just can't imagine being that young and not having my parents anymore. I cannot imagine.
Look for another post and hopefully a picture of Jim Jr.
I sure did like him.
Kristin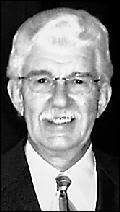 Here is the Obit from the Lansing State Journal...
James Theodore "Jim" Alfredson Jr.
Okemos, MI
Jim died unexpectedly at his home on May 9, 2008 at the age of 67. Born December 6, 1940, He graduated from Perry High School. He served in the U.S. Army before entering a career as a professional guitarist/musician and songwriter. As a young man, he traveled the country extensively playing music, but it was back home in Michigan that he met and married Verna Lou Cogswell. Together they raised seven children and during that time Jim composed the songs of Gabriel's Horn.
Being a father, his schedule as a musician no longer suited him. Jim began an apprenticeship learning how to tune and repair pianos. He quickly learned the trade and created his own business, Calliope Piano Service, which served the greater Lansing area for nearly 30 years. In 1997 Jim's wife of nearly three decades, Verna, died of cancer and he was grief-stricken for several years. It was during this time that Jim composed his dissertation, Under the Sun, which he considers his most important work.
Fortunately, God is great and Jim met another angel on Earth. His second wife, Venecia, loved and cherished him and revived his spirit. Remarried April 24, 2005, Jim spent his remaining years doing what he loved: being a father to his children and Papa to his grandchildren, playing guitar, reading theology and philosophy, writing his journals, managing his website and blog (www.thepilgrimtraveler.com), cooking, tending to his plants, listening to birds, and watching the sky.
His father, James Theodore Alfredson Sr. and his first wife Verna preceded Jim in death. He is survived by his mother, Doris Himebaugh of Mt. Pleasant; his wife, Venecia Burner-Alfredson of Okemos; his eight children: Jennifer Alfredson of Holt, Shelly (Matt) Jones of Owosso, Sarah (Steve) Case of White Lake, James (Alison) Alfredson III of Lansing, Justin Michael Alfredson of Lansing, Julianna (Shawn) Shaltry of East Lansing, Jessica (Eric) Alfredson of Lansing, Natalie Walsh of Lansing; and six grandchildren: Alexander, Kevin, Zora, Sophia, Lucy, and Stella. "He that dwelleth in the secret place of the Most High shall abide under the shadow of the Almighty." Psalm 91. Jim was a spiritual teacher who believed that simple faith is the foundation of inner peace and security, of the love needed to continue. His words, beliefs and teachings will forever stay with us in his absence. Jim will be deeply missed, and never forgotten, by all who knew and loved him.
There will be a celebration of Jim's life held 2:00 p.m. Tuesday, May 13, 2008 at the Estes-Leadley Greater Lansing Chapel, burial will take place in Maple Ridge Cemetery, Holt, Michigan. The family will receive friends 5:00-8:00 p.m. Monday at the funeral home.
Published in the Lansing State Journal - May 11, 2008
A tribute to James Theordore Alfredson Jr
This is what Jim read at his dads funeral.
First, let me speak for the family and extend our thanks for the outpouring of support we have received from everyone. I would especially like to thank those in attendance today. It would please Dad immensely to know how much he was admired and loved. For a man who proudly had an air of solitude around him, he had many people who loved him and he never failed to make a lasting impact on the people he met.
Just this past December, I attended the funeral of the patriarch of my wife's family, her grandfather, Mr. LeRoy Henry. It was at this very funeral home, in this very room, in fact. As I sat in the audience watching the tears stream from the faces of LeRoy's children, listening to them speak so proudly of their father, and sharing memories of his life and work, I could not help but contemplate my own father's passing. I thought about how I would cope with his death, what I would say about the man and his life, and how large his presence loomed in my life and the life of our family.
I did not think I would have to face his death so soon.
My Dad was a good father. Above all else he loved his family and held a special, unconditional love in his heart for all his children. He guided us with a firm, but gentle hand. He did not burden us with expectations, other than that we love each other and be honest at all times. He did not force us into careers or shove us into churches or demand we attend higher education or use guilt to make us fulfill some dream of his that he never achieved. He instead let us become who we are, on our own terms and at our own pace, and he reveled in our differences. I remember him telling me over and over when I was a little boy that there was no one in the world like me, there would never be another person like me, that my mind was my own, and that I was unique. He let us think for ourselves and learn for ourselves and make mistakes for ourselves, always ready to answer any questions or help at any time us if we lost our step.
He was a strong-willed man. He was an extremely stubborn man. He lived his life on his own terms. He loathed poor workmanship and respected quality craftsmanship. He did not value money. He worked very hard and considered hard work a blessing. He loved to work with his hands. He liked boxes. He was a voracious reader and considered himself a philosopher. He loved nature and birds. He never did anything half-way. I remember back at the farm when he suddenly got into wind chimes. He brought home one set and the next thing we knew the entire porch was blocked by hundreds of hanging wind chimes, creating a wild, wind-powered chorus of atonal anarchy… which he thought was fantastic!
He loved writing words and writing music. He loved playing the guitar, but he always told me he was a frustrated organist. He was thrilled when I found the instrument on my own and he always supported my music. I owe my music to him.
I will be honest and admit we had some dark times. He had demons with which he fought, usually using the wrong means to combat them. He could be irritable, cranky, and sometimes downright mean, especially in the mornings. But I understand now that he was fighting with alcoholism, a disease which can turn a man against those he loves. He was not always himself, for a long time.
When Mom died, his grief was so great we all feared he would not make it. His demons seemed to be winning the battle a bit more everyday. He lost himself in the bottle. The pain of her death hit him so forcefully that it seemed impossible for us to console him, especially since we were all dealing with the sudden loss ourselves. For awhile, the family seemed irreparably fragmented.
But the strength of the family prevailed. The past few years of his life saw him happier and more peaceful than ever. I told my wife many times that he was like a changed man, but really I think he had uncovered and returned to his real self. That kind, gentle, funny, charismatic and handsome self that my mother fell in love with all those years ago. I place the credit for his transformation solely on Venecia and her immense love for him. Without her, he would never have lived to see his grandchildren. He would never have reconciled with his mother. He would never have achieved a life so happy and so content. With Venecia's help, he finally faced his demons and he won. I thank you, Venecia, from the very bottom of my heart for what you gave to my father and to the family through your love and commitment. You gave us all a real second chance. You are and will always be an integral part of this family.
Now that he is gone, we siblings must trust in the knowledge that he gave us to guide us through the rest of our lives. We can't pick up the phone and call him for advice. We can't come over and sit with him in the office or on the back porch. He won't be there, smiling as he answers the door. He won't show up, unannounced, to have lunch and see the kids. He will no longer be at the table for Easter or Thanksgiving or Christmas.
But I believe that he will always be with us and within us, if we take heed of his legacy:
Practice the simple faith.
Don't worry about the small stuff.
Where there is a will, there is a way.
Belief creates; doubt destroys.
Love overcomes all.
And all is as it should be.
I'd like to end with a few short quotes from Dad's blog.
"I have always appreciated those of us who dare to take a chance, to follow their dreams, even though the rest of the world thought them crazy. I am such an individual, not nearly as successful as [others], in a worldly sense, but, in my own way, I am. My life has been full and varied, interesting, rewarding, and of great value to me. I enjoy being here, now. I take time to smell the roses, as it were, and love my life to the fullest. I hope you also take time to listen to the birds, smell the sweet breezes, feel the rain on you face: all is good and as it should be. Don't waste your short life listening to the bummers: they are all on an elevator that is forever going down. Push the 'up' button and find ultimate beauty and meaning in what, who, and where you are."
"Follow your dream and don't let anyone relieve you of it: it's yours and yours only. Never follow anybody else, don't take what they offer, don't believe their lies. Trust your inner being: you know more about yourself than anyone else in the universe."
"Life is now and that's all it is. Better get with it before it's gone."
May you rest in peace, Dad. We will always love you.
James Theordore Alfredson III
May 13, 2008
This is what Alison wrote....
I thought I should share a thought or two about my father-in-law. He was an amazing man and I clearly remember the first day I met him. At that time he was still in a state of recovery after Jim's mom's death. Within the last 7 years he proved himself as an exceptionally attentive man to his entire family and friends. He always gave advice, and the kind one wants to get. I was so blessed to have him in my life and in Zora's life. I am very saddened that she won't even remember how much she loved him and their time together.
Jim and his dad are very similar. Beyond their musical interests and physical attributes, they both have a kindness and selflessness that I rarely see (to that extent) in others. I will miss him terribly. I understand the days, months, and years will be rough...to say the least. No one can prepare themselves for this loss. I pray Jim will be able to find comfort in his family and friends.
Thank you all for the kind words. This community means so much to Jim and will help him get through this time.
Alison